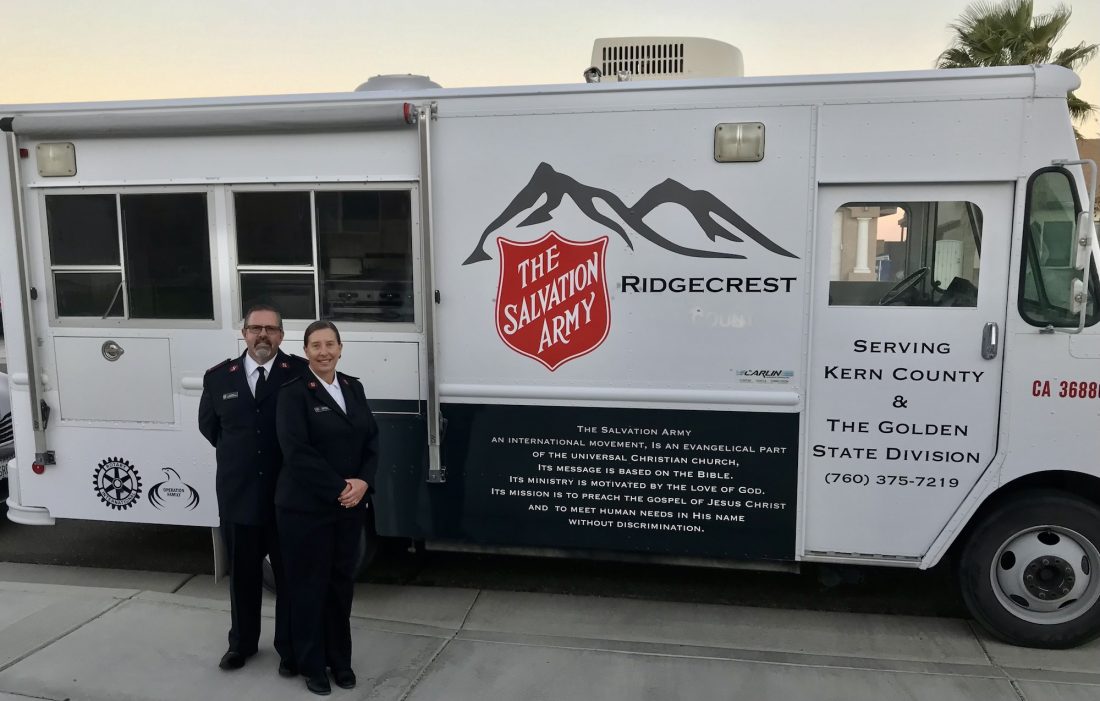 The Salvation Army of Ridgecrest, California: God's Army in a Navy town
Lts. Chris and Gina Noble arrive in the high desert armed with God's love and a 100-day community outreach plan.
When Lts. Chris and Gina Noble were appointed to lead The Salvation Army in Ridgecrest, California, they figured they were headed to the middle of nowhere—especially after serving at the Santa Clara Corps in California's Silicon Valley.
"When our Divisional Commander, Major Darren Norton told us where we were going, we didn't know what to expect," Gina Noble said. "But he told us, 'Love your community and they will love you right back.' And he was right."
Fueled by God's love and a strong action plan, the couple rolled into Ridgecrest in summer 2021, during the COVID pandemic. They designed a 100-day plan to educate residents about the Army's services and to show them both how the Army could help them and how they could help the Army.
The Salvation Army plays a big role in a small town, Noble said. In Ridgecrest, The Salvation Army provides a wide scope of services, including food distribution, a thrift store and a mobile canteen.
"We're out in the middle of somewhere," Noble said. "It's a perfect location for The Salvation Army."
Located in California's high desert, halfway between Bakersfield and Death Valley, Ridgecrest is home to just over 29,000 people. Bakersfield, the closest big city, is about two hours away. The area hasn't completely shaken off a pair of 2019 earthquakes, back-to-back temblors that destroyed homes and sparked fires, causing $100 million of damage.
"Ridgecrest is remote," Noble said. "You have to be prepared for emergencies. In The Salvation Army, we learn to be prepared, but because it's so isolated here, preparation is important every day. It's very eye-opening here. People look out for each other."
And the Nobles got right to work figuring out how The Salvation Army could be known as a group that looks out for people.
"Whenever there was a community event, we showed up in uniform, even when it was over 100 degrees," Noble said.
They presented their ideas to local community service organizations, including plans to streamline the drive-through food distribution, restore the mobile canteen and refresh the Army's thrift store.
Noble said they are witnessing increased need at their twice-weekly drive-through food distributions. "The numbers are increasing. We are serving 250 households weekly and seeing an increase of 30 or more households each week."
A military town, Ridgecrest is adjacent to the Naval Air Weapons Station China Lake, the Navy's largest single landholding. The Nobles said the Navy base shapes the needs of the town, as the population comprises mainly Navy employees/active military or individuals in service industries, with a lack of medium wage earners.
To connect with the military, The Salvation Army marched in the local 9/11 Parade of 1,000 Flags. It partners with the Navy base commissary's Feds Feed Families program; the store buys back its own merchandise and The Salvation Army distributes the products to those in need. The Army also works with the base's women's auxiliary, WACOM, which runs a thrift store. The Nobles applied for and were awarded a grant to fund vouchers allowing veterans to obtain goods at no cost.
"I am amazed by all the changes you are making," community member Mary Lundstrom told them after a Rotary Club meeting. "I look forward to seeing how you will greatly impact our community. Your enthusiasm is contagious."
Meanwhile, The Salvation Army runs its own thrift store in Ridgecrest. As part of their 100-day plan, the Nobles closed the store temporarily for a "Thrift Store Refresh."
This became a "labor of love," Noble said. Over 500 hours were given by volunteers from community groups, including the  local community college and the Ridgecrest Church of Jesus Christ of Latter-day Saints, who came together to complete the project. The store opened a couple of months ago, to great success.
"The Salvation Army has been a staple in the Ridgecrest Community for those in need," Ridgecrest Mayor Erik A. Bruen said. "During the pandemic they went above and beyond to ensure that anyone who could not get to basic resources like food were always provided for."
Thanks to their concerted outreach, Noble said they have five times the number of volunteers they had three months ago. Right now, with Christmas approaching, she said the corps' phone is ringing off the hook with people asking how they can help The Salvation Army during the holidays, ensuring "Hope Marches On" in California's Northern Mojave Desert.
"You go out in the community and share the love of God and watch what happens," Noble said. "The community in the high desert—they show up and they give. There's a tenacity here. We are way out here and we love this community and its desert-dwelling people. People trust The Salvation Army; there's a beautiful community spirit here."
---
Do Good:
You've probably seen the red kettles and thrift stores, and while we're rightfully well known for both…The Salvation Army is so much more than red kettles and thrift stores. So who are we? What do we do? Where? Right this way for Salvation Army 101.
Want more content from Caring Magazine? Follow us on Instagram! Get caught up with the latest stories, podcasts and more to inspire goodness in your life.
Find out more about how The Salvation Army is ensuring "Hope Marches On" this Christmas and beyond.