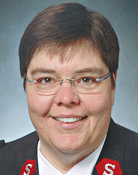 The Salvation Army Marion-Polk Counties welcomes new leader
Major Kelly Pontsler began her duties on Feb. 1.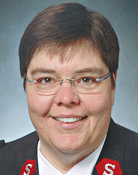 Salem, OR—The Salvation Army Marion-Polk Counties proudly announces a new leader at the helm: Major Kelly Pontsler, who began her duties on Feb. 1, is replacing Majors Jerry and Donna Ames, who have taken full retirement. Pontsler is excited to be here and to carry on the organization's services and mission as The Salvation Army Marion-Polk Counties coordinator and Kroc administrator.
Pontsler, the eldest of four children born into a family who were members of The Salvation Army church, began her life in San Francisco. Once her parents became Salvation Army officers (ministers), she embarked on her journey of living in different places, experiencing new things, and anticipating her future life's adventures.
After receiving her BS from San Francisco State, Pontsler attended The Salvation Army School for Officer Training and was commissioned (ordained as a minister) in 1985 as part of the Guardians of the Truth Session. Following appointments at Denver Citadel and Boulder, Colo., she served in the finance department in the Northwest Division in Seattle. It was during this time that her heart was called to work overseas.
From 1990-1997, Pontsler served as the territorial finance secretary for the Zaire and Angola Territory in Africa. As the country was experiencing civil unrest and violence, she was able to accomplish her tasks in spite of extraordinary daily challenges. One of her responsibilities was to bring the department into the computer age, which she achieved very successfully.
At the end of this assignment, Pontsler returned to California to act as the assistant territorial finance secretary for the West. During this two-year period she continued her education, earning her MBA from California State University, Dominguez Hills.
For the next three years, Pontsler supported the finance departments in Portugal, Italy, Spain and Belgium. In her subsequent role as under secretary for Europe, she spent three years in London at International Headquarters. Her following assignment was in France, where she spent one year working with the Action Espoir outreach ministry in Paris. Additionally, she was a member of the international support team for Project Warsaw, which was tasked with the launch of the Army's work in Poland.
In October of 2006, she returned to California and served as San Francisco metro coordinator and general secretary for the Golden State Division.
Pontsler will be installed Sunday, Feb. 5, at the 10:45 a.m. worship service at The Salvation Army Kroc Center. The Cascade Divisional Commander, Lt. Col. Eda Hokom, will conduct the installation. All are welcome to attend this service.