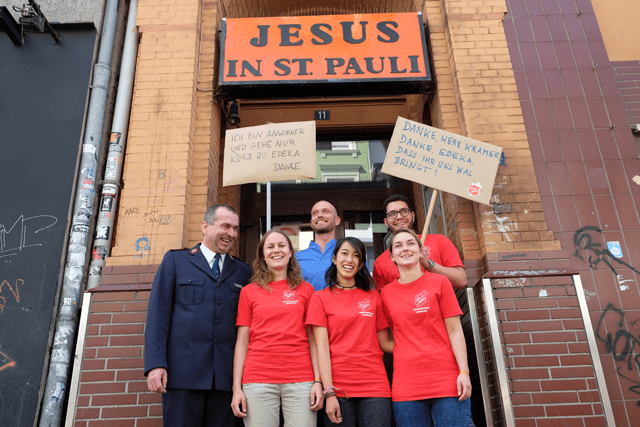 The Salvation Army in Hamburg, Germany, extends its influence during G20 meetings
By Dave Naithani –
The Salvation Army in Germany found itself in the middle of media attention during the recent G20 meetings in Hamburg. Scenes of violent protest became familiar with dozens of police officers injured as they secured the site, but the local Salvation Army corps was at the heart of some more positive outcomes.

Amid blanket coverage of protests, one photograph that went viral showed a young man walking past the security forces, holding a sign that said: "I'm a resident and I'm just going to EDEKA, Thanks."  EDEKA (a large grocery store chain) responded on Facebook by saying: "Stay home. We'll bring you something. Please." The man in question, German comedian Andre Kramer, thanked them for the offer but asked that they instead make a donation to the food bank and day center run by The Salvation Army in the city.

Kramer met with EDEKA representatives July 18 at The Salvation Army's center as they delivered 250 pounds of coffee, 200 litres of milk, 250 cans of soup, 100 bars of chocolate, boxes of apples and bananas as well as some sanitary supplies for the homeless people served by the center. The meeting was covered positively by the German press and has been heavily featured on social media.

The corps in St Pauli also had an influence for peace while the G20 meetings were ongoing. Prayer gatherings and an open-air meeting outside the corps building led to positive encounters with neighbors, protesters, helpers, service personnel and clients.