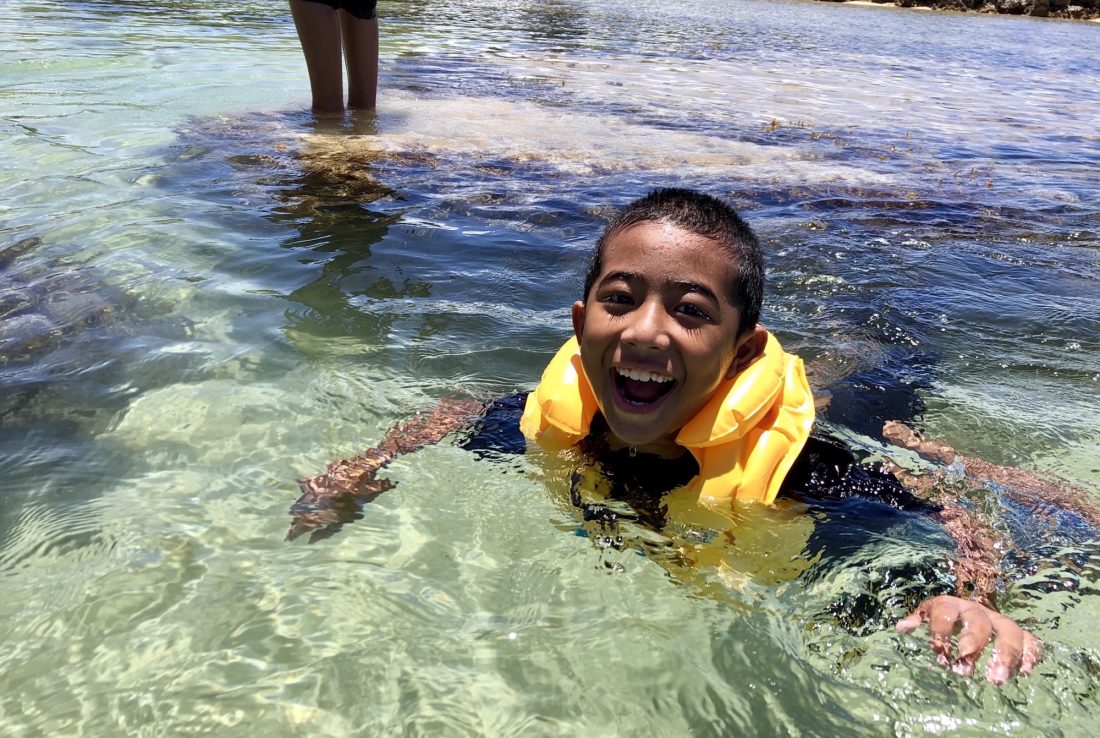 The Salvation Army helps children rise up from the margins in Guam
In Guam, The Salvation Army expands kids' worldview by improving reading skills.
Soon after Captains Eric and Kari Rudd arrived at their appointment in Guam in 2020, they recognized a profound need among many of the children coming to The Salvation Army's Guam Corps for worship services and youth programs: The children did not read well. To help them become proficient, the Rudds launched a book club in summer 2021, meeting with the kids once a week to encourage reading while having fun.
"It is our intention to encourage and support all the children in their efforts to improve their reading skills," said Kari Rudd, who jointly serves with Eric Rudd as Micronesia Coordinator and Guam Corps Officer. Guam and Chuuk Islands are in the Western Pacific Ocean, in the farthest reaches of The Salvation Army Western Territory.
"Our book club got off to a good start. Friends from the mainland sent a variety of books for our new corps library, and we were meeting regularly."
The children in the club attend school and speak English, but for the most part, their parents do not. The families had migrated to Guam from Chuuk Islands, a neighboring island group, where they spoke different languages. At home, the children have no one to help them develop their reading skills.
Adding to the challenge, many of the families live in the bush, struggling to get by. The Rudds hope that by improving the children's reading skills, as well as building trust with their families to better meet their needs, they can break the cycle of poverty.
"This is definitely a gap that needs to be filled," Kari Rudd said.
Observational studies, including one reported in "Pacific Youth: Local and Global Futures," have shown that classrooms lack teachers or instructional aides who can communicate with the Chuukese migrant children in their home languages.
The Guam Corps' congregation includes a school teacher, Catherine, who offered to assess the corps' kids' reading levels. The assessment revealed that some middle school students were reading at a first or second grade level, which helped the Rudds decide where to begin with the children in the book club.
"They're into it and they want to read," Rudd said. "They see this as an opportunity to be affirmed."
COVID hiatus
When COVID restrictions put club meetings on hold, the Rudds continued to minister to the children and their families.
"We do what we can through outreach, providing food, information and Bible studies, and making sure people are OK," Rudd said.
One way they reach out is by delivering food to the Chuukese community.
"We make sure everyone eats," Eric Rudd said. "The island is 98 percent Catholic, but they appreciate that it's The Salvation Army that's coming to them with help and encouragement…and these Chuukese kids—we want them to succeed."
He emphasized the importance of establishing trust with the people to be able to meet more of their needs. Much of the trust-building hinges on the kids, whom they transport to and from the corps.
While other Salvation Army corps might reach youth through formal troop programs, the Guam Corps uses some of the material to work on badges with the kids, aiming to widen their horizons beyond Guam, an island 30 miles long and eight miles wide.
They hope to help children like Yanni through corps activities and through showing God's love.
"One time, I asked Yanni, 'What do you want to do when you grow up?' and she just looked at me blankly," Rudd said. "She couldn't see the possibilities available to her."
When they worked on the food badge, they introduced France and Italy through the cuisine, opening the kids eyes to a larger world.
"Our hope is to imbue reading skills while building self-confidence in the spirits and minds of these marginalized kids," Eric Rudd said. "Our love for Christ calls us to do something."
The book club shows the children that they can do something, and there are incentives. As the participants make progress, the Rudds might take them to a restaurant, where now they can read the menu. They may ask them to read Scripture in church.
"It builds self-esteem," Kari Rudd said.
It's more than that, though.
"It's a holistic approach to spiritual healing," she said. "We want them to know Jesus loves them. They are God's children. They can do whatever they want to do. We tell them, 'Don't be afraid to dream big.'
"The Lord has told me that he brought us here to teach them and to show them his love," she said. "We see it as scattering seeds of hope."
As COVID restrictions lift
Recently, the Rudds were able to take the children to the mall, where they visited a bookstore. Initially the experience was overwhelming.
"Once in the bookstore they…started going through everything kind of frantically," Kari Rudd said. "Eric and I directed them to their age group and interests."
Some chose Manga books, while others selected science fiction chapter books.
Erenity, age 5, asked: "We really get to choose one for keeps?" Twelve-year-old Vi'ani simply said, "Thank you for buying me my first brand new book."
Before they left the store, the children had a message for the store clerk.
"They have been learning how to bless people in God's name," Rudd said. "Each child said 'God bless you, ma'am.' [We are] teaching the kids that they have the power to brighten other people's day. They matter."
Currently, the Rudds are spending more time with the kids in the club, helping some of the beginners work through spelling and writing workbooks.
"If we can teach these kids to read, we will have empowered and equipped them," Rudd said. "Anything is possible."
---
Do Good:
Did you know The Salvation Army served 31 million Americans last year fighting hunger, homelessness, substance abuse and more—all in a Fight for Good? Where can you help? Take our quiz to find your cause and learn how you can join in today.
Do you enjoy inspiring stories of impact that build well-being for all? Want to know how to get involved in doing good right where you are? Interested in tools for taking your next best step, owning your story and stepping into your calling? Like reminders that God is good, faithful and offers you joy and peace? Get the Do Good Digest and find weekly inspiration right inside your inbox.
Subscribe to the Do Gooders Podcast and tune in for good ideas. Get inspiration from the experts on how to do good and find meaning along the way—and join thousands in making an impact for good right where you are.