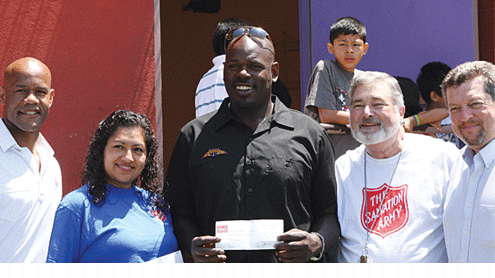 The NFL returns to Los Angeles
Ex-football pro motorcycles cross-country, raising awareness and funds for The Salvation Army.
By Robert Brennan
Ruben Brown, former National Football League (NFL) guard for the Buffalo Bills and Chicago Bears, began his annual cross-country "Ruben's Run" from Virginia in August, visiting several Salvation Army sites along the way. The goal of Brown's annual fundraiser is to visit as many Salvation Army youth and community centers as possible to raise awareness and financial support.
Brown has seen his venture become increasingly popular since its beginning in 2001. To date, Ruben's Run has raised more than $500,000 for a number of charities including The Salvation Army.
On July 30, Brown visited The Los Angeles Red Shield Youth and Community Center. While there, he met with the kids and toured the facility.
"This reminded me of the kind of Salvation Army center I attended when I was a kid," the ex-football player said. "It was a very important part of my life as a young person and I can see it's just as important to these kids as well."
Joining Ruben this year was former NFL running back Robert Delpino, who was a hit with the center's kids when he brought out action photos of himself as a player for the Los Angeles Rams and Denver Broncos and signed personalized autographs.
Salvation Army Western Territory employee Jim Thompson was so moved by Brown's commitment to give back to the community that he raised money on his own and joined Brown's Los Angeles ride. With donations from ACC Environmental Consultants and the Wumbus Corporation, he raised $2,300 and rode alongside Brown to deliver the donation to the Red Shield.
The Red Shield has been serving the community in Los Angeles for 61 years and continues to provide educational, recreational and spiritual programs that impact families in a positive way. Its offerings include ballet, karate, drama, music, recreational sports, tutoring and technology classes, all aimed at elevating the quality of life. For more information on the Red Shield visit www.losangelesredshield.org.