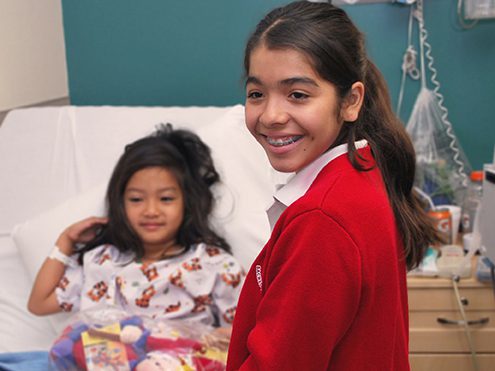 The Jester's gift
David Saltzman's bestselling book keeps kids laughing during trying times, and gets them excited about reading.
Once upon a time, there was a boy who loved to cheer people up when they were down. He shared this gift of caring in a book that went on to inspire hundreds of thousands of children to reach out to other kids in need.
But the book that made this possible was almost never published at all. How David Saltzman's New York Times bestselling illustrated children's book "The Jester Has Lost His Jingle" (The Jester Co., 1995) came to life is itself a story of perseverance. Saltzman had become interested in writing and illustrating for children after meeting Maurice Sendak, legendary author of "Where the Wild Things Are" (HarperCollins, 1984). The impact was mutual, according to Sendak, who contributed the book's afterword.
"Our lives briefly touched, but I remember him among all the eager, talented young people I've bumped into along the way," wrote Sendak. "That he managed through his harrowing ordeal to produce a picture book so brimming with promise and strength, so full of high spirits, sheer courage and humor is nothing short of a miracle."
That ordeal began the day a dry cough turned into a heartbreaking diagnosis—Hodgkin's lymphoma—when Saltzman was just 20 years old and a student at Yale University. But with it, his focus on launching his book into the world grew stronger. He kept a journal for the next year and a half with his writings and drawings while putting together "The Jester Has Lost His Jingle" as his senior project.
"David had that ability of engaging with anybody he passed on the street, and he looked them in the eye and he talked to them," said Barbara Saltzman, David's mother and executive director of The Jester & Pharley Phund, a non-profit created by his family in the wake of the book's success. "He made them feel better. And that's what his book does."
Prior to David's death just days before his 23rd birthday, his family vowed to publish the book in its original form. In 1990, when the family failed to get the kind of support from conventional publishers to fulfill David's dying wish, they didn't give up.
"They wanted to cut the book in half and make it a black and white paperback," said Saltzman. She, along with her husband Joe and son Michael, decided they would find a way. Five years and a second mortgage later, the book was finally published. "David showed me page-by-page the way he wanted the book," she said.
Staying true to his vision turned out to be a sound decision: more than 330,000 copies have been sold in the 21 years since publication of "The Jester," which has also been translated into two bilingual editions in Spanish/English and Japanese/English. "David's mission and vision lives on in this book," said Saltzman. "He was able to weave his own life experience into this magical story that is engaging and gets kids excited."
Cultivating caring
The story in "The Jester" doesn't just keep kids laughing during trying times—it gets them excited about reading, too.
The hallmark of the Jester's Phund is its "Reading Makes a Difference" literacy program, which works with low-income schools to fund read-a-thons that boost reading skills and compassion: kids read in order to earn books for children who are ill in local hospitals. More than 40 million pages have been read since the program launched.
"By getting involved in reading, they get hooked on reading and they understand what David was trying to convey to them," said Saltzman. "The reason our programs are so successful is because 'The Jester' talks to the children, and they get it. It inspires them to move themselves forward, and to know if they're sad, they can be happy again."
Saltzman said that over the years, children who have grown up with the book have said that they are now reading it to their children. "They may have kept it on their coffee table for 20 years," she said.
Saltzman, a former Los Angeles Times editor, has spearheaded the Phund's literacy programs through donors, partnerships and funding grants, such as the USC Good Neighbors campaign, which is funded fully by USC employee donations.
In Southern California school assemblies, Saltzman personally reads David's book aloud to schoolchildren and answers their questions about him. She returns after the read-a-thon concludes to acknowledge the students who read the most pages in each grade, and to thank everyone for their participation.
"Their enthusiasm is contagious," she said. "No matter how tired I get, the minute I get to a school and see the students' enthusiasm for helping others, and getting involved in reading, it just energizes me and keeps me going."
Sharing what David had to say is what's most critical to the program's success, she said. His message was to inspire children to be creative, to believe in themselves, and to not let anything get them down or stand in their way. "I guess in a way I'm his messenger," she said.
"It's up to us to make a difference; it's up to us to care." – David Saltzman, "The Jester Has Lost His Jingle"
Rebuilding through reading
It isn't just children at Los Angeles-area schools who benefit from the message of hope and laughter through difficult times.
The Jester Phund worked with The Salvation Army in the wake of Hurricane Katrina in 2005. Students at David's prep school in Southern California participated in a read-a-thon to raise money to send "The Jester" books and dolls to children affected by the disaster, including the entire city of New Orleans, parts of Houston and points in between.
"I didn't want the books and dolls just 'sent,' so we worked through friends who had Salvation Army relatives working in that area, and they personally gave 'The Jester' books and dolls to kids and families they knew would be in special need of a smile after that awful dislocation," said Saltzman.  
"The strength of The Salvation Army is it has a presence in every zip code," said John Berglund, Director of Emergency and Disaster Relief Services for the western region of the U.S.
Partnerships are key to The Salvation Army's disaster response work, Berglund said, pointing by example to the $16 million recovery efforts carried out by The Salvation Army over three years after Superstorm Sandy struck New York in 2012. This is partly because, in the wake of disasters such as Katrina, Sandy and Sept. 11, providing food and shelter has become increasingly complex as communities become more diverse.
"We have to keep reinventing what our services are," Berglund said. "Rolling out the canteens with food and coffee isn't the end anymore."
The Salvation Army will often lead the coordination of dozens of other non-profit agencies domestically and abroad to provide relief for families experiencing crisis, using "unmet needs" tables to provide complex disaster case management that isn't just "one size fits all."
"We are filling in the gaps 365 days a year," said Berglund. "We have emergency centers with the right intelligence, and we can be extremely flexible."
 Saltzman wants to help people move past grief and into a community of social good and healing, while cultivating a culture of caring for others.
"We would love to be able to expand this program exponentially to be in every school in the country every day," she said.
The program is based on her late son's simple vision, encapsulated in a line in his book: "It's up to us to make a difference; it's up to us to care."
"The children internalize that message," Saltzman said. "I would like to see everybody internalizing that message and make this a much better world."
Learn more about The Jester & Pharley Phund's "Reading Makes a Difference" program in schools, or purchase the bestselling illustrated children's book "The Jester Has Lost His Jingle" (The Jester Co., 1995) at thejester.org.
[button color="black" size="normal" alignment="none" rel="follow" openin="newwindow" url="westernusa.salvationarmy.org"]Support The Salvation Army in your local community as it empowers children, equips families and more here.[/button]