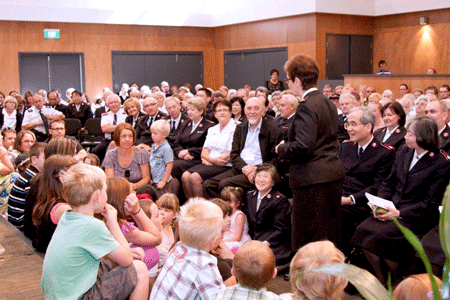 The General Shares Message of Encouragement and Challenge in Norway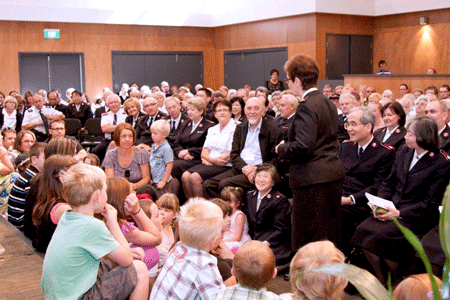 The congregation at Oslo Temple Corps, Norway, was energized, encouraged and uplifted by the visit of General Linda Bond. The General – making her first visit as international leader to the Norway, Iceland and The Faeroes Territory – emphasized the importance of seeking the power of the Holy Spirit and reaching out with the mission of Jesus Christ.
Drammen Gospel Choir set the mood of the evening with the song 'It's All About the Love of Jesus'. When the General was introduced, she declared: 'I love the Lord with all my heart.'
Johannes Ystad from Lørenskog was presented with the General's Scout Award by the General and soldiers Marie Othilie Georgsen and Gyda H. Hansen gave their testimonies.
Before the General's Bible message the territory's 16 officer-cadets presented a Scripture recital from Ephesians 6:10–20, using sign language to emphasize the power of the words.
The General emphasized her belief in a Spirit-filled Army energized for mission – the mission of Jesus Christ. She encouraged the Salvationists present to communicate the gospel that gives salvation, adding that she wants The Salvation Army to pronounce salvation not only to keep a sinner out of Hell, but so people can live victoriously today.
The mission of The Salvation Army, said the General – pointing out that this should be the mission of every Christian – is to communicate to everybody that the Lord Jesus Christ can change their lives. To do that, she explained, people need the power of the Holy Spirit.
The General called Salvationists to rededicate themselves to God. Many people made their way to the mercy seat.
After the meeting the General took time to shake hands with nearly everyone present, a gesture that was greatly appreciated by the members of the congregation.
Report by Marianne Klæboe Jernberg