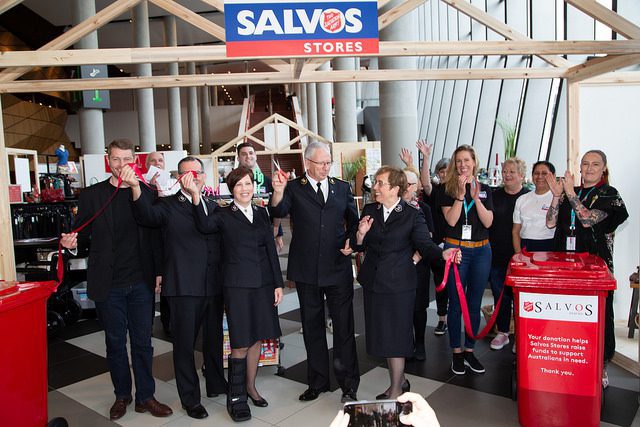 The General launches Australia Territory
General Brian Peddle launched The Salvation Army Australia Territory as a single united entity Nov. 30 during the week-long "Still Others" event in Melbourne. The launch concluded a 10-day visit for the General and Commissioner Rosalie Peddle (World President of Women's Ministries), during which they also traveled to Sydney and Brisbane.
The new Australia Territory officially began operations Dec. 1, replacing the Australia Eastern and Australia Southern territories. Australia has not functioned as a single territory since 1921, when the two separate territories were formed.
During the launch, the General officially appointed Commissioners Floyd and Tracey Tidd as territorial leaders and presented the new territorial flag. He also admitted Major Stella Green to the Order of the Founder for her pioneering ministry to Chinese people in Australia and Hong Kong.
The General praised the Tidds, Chief Secretary Colonel Mark Campbell and Colonel Julie Campbell (Territorial Secretary for Women's Ministries) for their efforts in joining the two territories, and thanked all who have been involved in decision-making and implementation.
Creating a single Australia territory has been a more than two-year journey that Peddle commenced in 2016 when, as Chief of the Staff, he announced in Australia's capital Canberra that then-General André Cox had given approval for the process to begin.
In their comments, the Tidds reminded Salvationists of the words of Catherine Booth, "There is no improving the future without disturbing the present."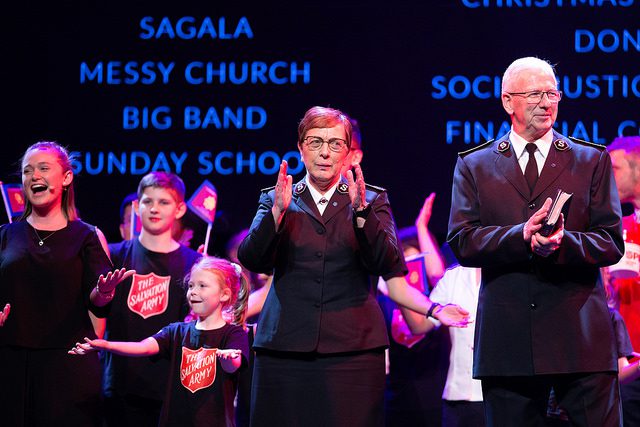 They encouraged Australian Salvationists to see "the new thing" that God had already begun to do in The Salvation Army in Australia.
"Let us clearly understand that God's 'improved future' is an improved future not just for us, not just for The Salvation Army, but for 'still others,'" they said.
Hence the theme of the seven-day "Still Others" gathering, which reflects Isaiah 56:8: The Sovereign Lord declares—he who gathers the exiles of Israel: "I will gather still others to them besides those already gathered."
Speaking at the "Together: Celebrating as One" meeting, the General said the Army in Australia is now at a starting point, adding that it is the opportunity and mission of every Salvationist to implement the vision. The commissioning of the territory's first new officers also took place at "Still Others," with the world leaders taking part.
As well as officially bringing the two former Australian territories into one after almost 100 years apart, Peddle stated many times he is totally on board with the Australia Territory's vision statement: "Wherever there is hardship or injustice Salvos will live, love, fight alongside others to transform Australia one life at a time, with the love of Jesus." He and Commissioner Peddle took every possible opportunity to urge Australian Salvationists to passionately live out the vision in their local community so that Australia will be transformed through Jesus.
From a report by Lt. Colonel Laurie Robertson and a report by Bill Simpson in others magazine