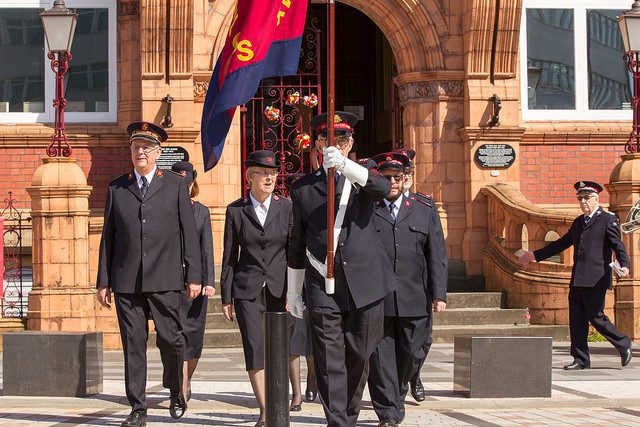 The General celebrates 140 years of Salvation Army ministry in Welsh town
By Iwan Rhys Roberts and Major Nigel Collins –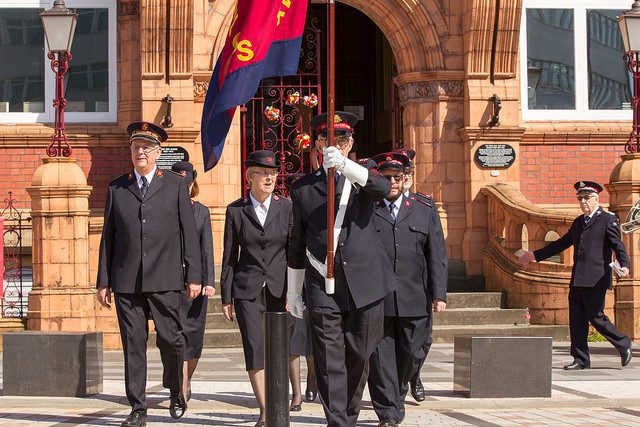 The 140th anniversary of The Salvation Army sending two missionaries to "open fire" in the Welsh town of Merthyr Tydfil was recently celebrated under the leadership of General André Cox and Commissioner Silvia Cox (World President of Women's Ministries). The visitors encouraged Salvationists and friends to continue playing a vital role in their community.
In 1878, 21-year-old Kate Watts and Harriet Perkin were dispatched to Merthyr Tydfil by The Christian Mission (as it was then known) to establish a branch and "bring the good news to all." In October that year, Salvation Army Founder General William Booth visited Merthyr Tydfil Corps—the 34th established by the movement that by then was known as The Salvation Army. The first regular meeting place was the theater in Market Square, which burned down in 1881, destroying the corps flag, musical instruments and other articles.
The 140th anniversary celebrations began at Burtons Corner, just along the road from the old Market Square. The international leaders took part in an open-air meeting with music from the band and songsters and readings from corps members. Crowds gathered in the sun to join in songs including "Simply Trusting Every Day" and "Tell Out the Wonderful Story," complete with timbrel accompaniment, before a march of witness followed The Salvation Army flag to the town hall for a civic reception. The General and Silvia Cox were met and welcomed by the Mayor of the County Borough of Merthyr Tydfil, Councillor Kevin Gibbs.
That evening, the Coxes were guests at a celebration event at the local leisure center. Merthyr Tydfil Corps Fellowship Band played two specially-composed pieces. "Renewed" was written by Dean Jones for the celebration weekend, and "Merthyr Tydfil No 34" was written by Paul Sharman for the 125th anniversary. The music echoed the thoughts of the General, who said that it was wonderful to celebrate the past but that the present and future were equally important, with the needs of the future being a challenge for The Salvation Army.
On Sunday, the international leaders took part in two meetings at the leisure center and attended a celebration meal. The General challenged the Salvationists and friends of Merthyr Tydfil Corps to review their commitment and Silvia Cox gave the reminder to fully trust God and rely on his power.
Speaking at the end of the visit, Lt. Colonel João Paulo Ramos, Divisional Commander of the South and Mid Wales Division, said: "It was a tremendous privilege to be joined by the General and Commissioner Silvia Cox for the 140th anniversary celebrations of Merthyr Tydfil Corps, which is one of thousands of Salvation Army ministries across the globe. The visit not only recognized the rich history of The Salvation Army's witness and social outreach in Wales, but it was also an opportunity for local Salvationists and friends to be inspired by the work of the Army at an international level and for them to realize the vital part they play in mobilizing people to join a movement that is serving needs in 128 countries across the world."