The bells are back
Bevin Bros. bell factory rises from the ash
By Jim Gordon
What do the Good Humor Man, The New York Stock Exchange, the movie "It's a Wonderful Life" and The Salvation Army all have in common? Through the years, they have all received their bells from Bevin Bros. Manufacturing Co. in East Hampton, Conn.
Or at least they did.
A lightning strike in late May turned the factory into a burnt pile of rubble, and put the 180-year-old manufacturing company out of business in a matter of hours. At the time of the fire, an order of more than 20,000 Salvation Army bells waited for shipment on the factory floor. Between the fire and thieves who stole ruins for scrap, the bells were lost.
Now just five months later, in a former bottle factory, the company is manufacturing Salvation Army bells once again. The new bells will be shipped in time for Christmas, maybe a little later than usual, but still in time for volunteers and kettle workers to man their spots, wish passers-by a merry Christmas, and ring the bell.
Bevin Bros. bell factory was founded in 1832, some 33 years before William Booth founded The Salvation Army. Matt Bevin, sixth generation owner and president, said that before the fire the factory produced 1.2 million bells a year with over 100 different sizes and varieties including call bells, cow bells, door bells, dinner bells, commemorative bells and of course Salvation Army bells.
"A lot of dreams and a lot of history was in there, and now it's all gone. Irreplaceable early records were lost in the fire" Bevin said. "I asked my 98-year-old grandmother how long the Army has been a customer and she replied, 'for as long as I can remember.'"
Through the years, more than 30 companies have made bells in East Hampton earning it the nickname "Bell Town USA." Even the local high school teams are known as the Bell Ringers. Bells are even pictured on the town seal and on street and welcome-to-East Hampton signs.
Bevin Bros. is the only remaining bell manufacturer in this town of 13,000 people 20 miles from Hartford, and still remains in the Bevin family. It was founded by brothers William, Chauncey, Abner and Philo Bevin, with Matt Bevin (a descendent of Abner) having taken control of the business in 2008.
"The fire almost has taken a heavy toll on our employees and our community, but it's amazing that out of something so tragic, that so many good things could appear," Bevin said. "Four days after the fire, I was drafting a letter to customers, business associates and friends. I was struggling with the tone of the letter. However, the more I wrote, the more positive the message became. I went from 'We might not start over' to 'We will rebuild!'"
Bevin said his faith in Christ defines him as a person.
"My absolute certainty that we should rise from the ashes has been an answer to my prayers and I am grateful for what a blessing this has been," he said. "I pray for wisdom, good judgment and clarity of thought and this mantra has kept me going through this difficult period."
Southern New England Divisional Commander Major Dave Champlin and Divisional Secretary Major Steve Lopes paid a visit to the "new" bell factory operation at the end of October with bell manufacturing underway on the factory floor.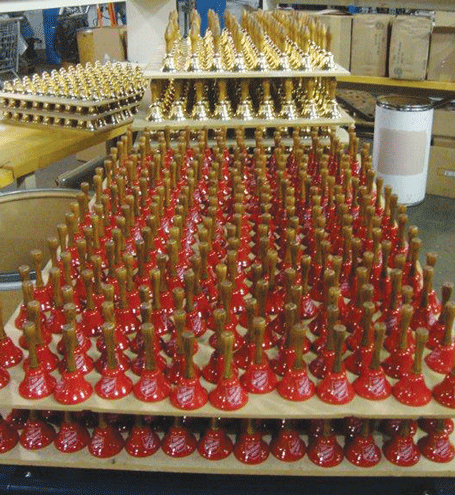 Metal stamping dies salvaged from the fire sat waiting to be refurbished for use in future manufacturing. The dies help turn flat raw metal into a bell.
The group also toured what remains of the original factory.
"The Salvation Army is very proud of our long and valued partnership with the Bevin Bell Company," Champlin said. "The sound of our signature 'bell-ringing' has become a seasonal icon for all Americans."
The Bevin family's resilience and determination in the aftermath of a tragic event, and their conviction to honor their heritage will have a continuing impact on The Salvation Army and many others who depend on the quality products they produce, he said.
"It is our sincere prayer and desire that Bevin Brothers will quickly return to the highly respected American manufacturing company that they are recognized for being."