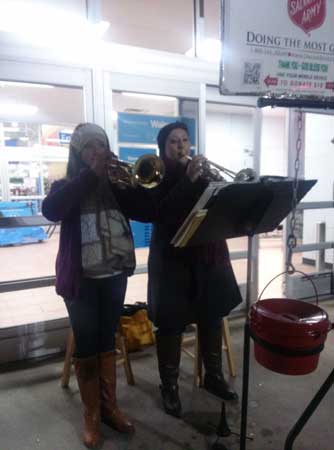 Taking the "black" out of Black Friday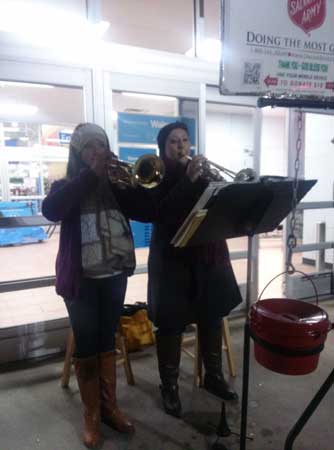 The Caffery family as a spark of hope in the rush and bustle of after-Thanksgiving shopping.
By Jim Gallop, Major
The Caffery family, of Clovis, N.M., has worked hard to take the "black" out of "Black Friday" and have done so in every state in which they have lived. Every year since 1994, the family has played Christmas carols at a Salvation Army red kettle stand on Black Friday. They have been performing at the kettles in three different states: Kansas, Mississippi, and New Mexico where they now live.
The words Black Friday conjure up an array of emotions, synonymous with our fast-paced culture of consumerism, sometimes resulting in tragedy due to the seemingly insatiable lust for big bargains. Flyers scream out at consumers: Buy this at a never before seen price! Grab this gadget—only 100 in stock! Following these ads is a frantic public, craving satisfaction from getting the best deal possible.
In the midst of all the chaos are the Cafferys. Their mission? To serve as a soothing alternative to the fast pace set for the day after Thanksgiving by playing their trumpets at a Salvation Army red kettle.
"It is simply our way of giving back," Ty Caffery said.
She relates to The Salvation Army's mission of giving through her own personal history while growing up in Pittsburg, Kan. As a child, her family experienced hard times, seeking assistance only when the struggle became overbearing. Without judgment—and with great empathy—The Salvation Army came to their assistance. "They helped us when it seemed no one else would."
Caffery developed an interest in music as she aged. "I particularly loved the sound, the tones of  the trumpet. It really had a way of speaking to my heart that nothing else could." This new-found love led her to play in community bands.
In 1994 she began playing her trumpet at a kettle site. "It was my grandma who suggested it. She was very involved in my life. Through all of the struggles we went through, Grandma was always there, as was the Salvation Army."
The first time she played, the donations at the kettle site in Pittsburg began rolling in. "We were able to double the donations for that kettle in Pittsburg. It was so great knowing that what God had gifted me with could help others."
The playing on Black Friday idea came as a result of her own insight. "I thought that people love Christmas carols. If we could play them well, they would hopefully stop to listen. When they did, the money started pouring in. Even on Black Friday, with the hustle and bustle, people love to be soothed by Christmas carols."
Ever since then, wherever she has lived, Caffery and her family have sought out The Salvation Army as a place to play carols at a kettle site.
"Always on Black Friday," she said. "We would much rather be giving back to the community than hunting down the latest bargain. It is through The Salvation Army that we are able to do this. They gave so much to my family when I was young. I'm happy to help."