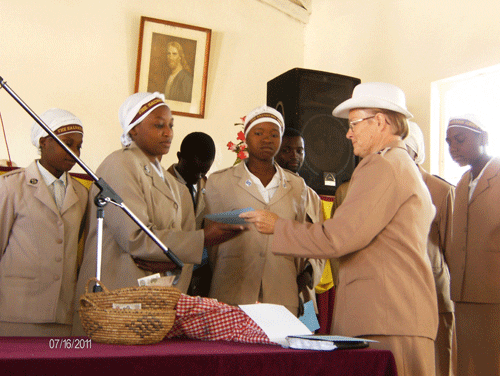 Take these loaves and fish

Major Beryl Pierce's ministry at the Chikankata mission in Zambia
By Karen Gleason
The loaves and the fish (Matt. 15:36)…that's what Major Beryl Pierce's work in Zambia, a landlocked country in southern Africa, brings to mind. God has taken what Pierce offered and significantly multiplied the fruits of her labor.
Pierce, a Salvation Army officer from the Western Territory, has served God in Zambia since June 2005, most recently as a corps officer and a social worker at Chikankata Hospital. In August she completed her second term in this African nation, and after furlough she will return for another two years, when she hopes to complete building projects for three of her four corps.
The Chikankata mission, in rural southern Zambia, houses a 200-bed hospital and three educational institutions: a high school with 800 boarding students in grades 7 to 12, a college of nursing and midwifery with 200 students and a biomedical college with 100 students. Overall, the mission is home to about 3,000 people.
Chikankata Corps, Pierce's largest, has 169 senior soldiers. Here, as in the other Zambian corps, timbrels are immensely popular, and the brigades would be even bigger if they had more instruments. Since Chikankata Corps lacks qualifying as a citadel because of its building's size, plans have been drawn to double the size of the building.  The cost of the expansion is estimated at about $20,000 to $25,000. The corps soldiers, who work on the mission, are raising money to hire the Kakole people (experienced at building) to help with the construction.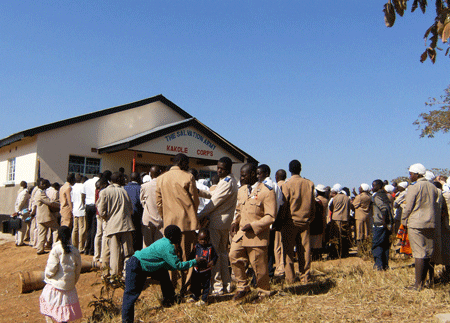 Kakole Corps, the second largest with 132 senior soldiers, literally raised its roof under Pierce's administration. In Zambia, the corps people do the construction themselves, even crushing rocks. When Pierce became corps officer, the congregation had prepared the footings and brought the walls to roof level, but the building sat like that for more than two years due to lack of funds for the roof and cement for the floor.
In 2009, the corps received assistance from Zambia's territorial headquarters for roofing materials, and the Kakole people erected the roof in three days.
Today, the Kakole building is completed—at a cost of $18,000 with all the work done by soldiers. On July 24—two weeks before Pierce left for homeland furlough—it received its official dedication, when the mission director enrolled 21 new senior soldiers for Kakole and the territorial chief secretary commissioned 80 local officers for three of Pierce's centers.
Chipola Society with 99 senior soldiers is not yet a corps because it lacks a proper building; the people are waiting to begin construction. Currently, they meet in a mud-clay brick building with a grass roof, but they have molded and fired 6,000 bricks and want to begin the building process.
Pierce's fourth corps is Chibbuku Outpost with about 50 senior soldiers. Their building burnt down a few years ago. They have completed their foundation and come up with the walls. They will be erecting the roof in late October or early November, when they will then need $1,500 for the doors and windows followed by another $1,500 for paint. Approximately $2,000 will be needed for the furnishings, and another $2,000 for the drainage system, the construction of toilets and an outdoor kitchen.
The Salvation Army is growing faster in Africa than anywhere else. During Pierce's time with her four corps at Chikankata, she has seen 119 senior soldiers and 103 junior soldiers enrolled, along with numerous local officers and home league members.
Reflecting on her missionary service, Pierce said, "God has been very good and I feel blessed and honored to be his servant in Zambia.
"To those of you who may feel the tug of God on your heartstrings but feel inadequate," she continued, "I am a prime example of how God can use the most unlikely and most unqualified. It only takes a willingness to obey the call; God will do all the rest. Don't underestimate his power."
To contribute to Pierce's work in Zambia, please send a check payable to The Salvation Army (with "for the work of Major Pierce in Zambia" notated on it) to The Salvation Army, Officer Services 12th floor, PO Box 22646, Long Beach, CA 90802-9998.