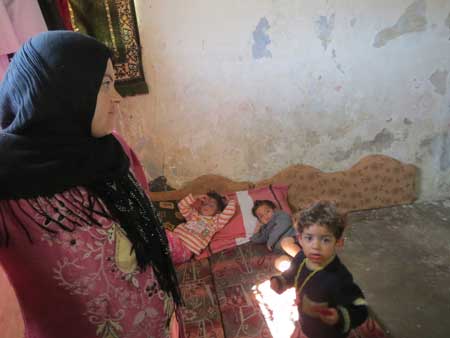 Syrian Refugees in Jordan Receive Assistance as Winter Closes In
The Salvation Army, in partnership with the Lutheran World Federation (LWF), is distributing much needed items to Syrian refugees in Jordan and also to Jordanian families who have been adversely affected by the influx of refugees.
With a comprehensive assessment of more than 1,500 families complete, and the most vulnerable having been identified, the winterisation distribution programme commenced on 2 December 2013. The priority was for widows with children and people with disabilities.
During the initial distribution period, which concluded on 11 December, The Salvation Army's International Emergency Services (IES) and LWF team members delivered goods to 630 families living in the Al Mafraq area. Under the winterisation programme each family received a gas room heater, gas bottle and coupons for refilling. Hygiene kits containing shampoo, soap, detergent, toothbrushes and paste, as well as hand sanitiser, soap, powder and feminine hygiene items were also distributed. Each family also received a carpet and five blankets, and those with children received clothing. The Jordan Hashemite Charity Organisation (JHCO) partnered with The Salvation Army to provide warehouse space for the products, which proved most helpful from a safety and security perspective.
In recent days the weather has changed, with rain and cold wind causing additional challenges. A temporary shelter was erected to protect goods and people from the elements. The winter weather pattern confirms that the essential items distributed will be used immediately and no doubt for weeks to come during the winter period.
Care and concern for others is the hallmark of The Salvation Army's IES programme. Thanks is not expected, but many of the beneficiaries expressed gratitude for the number and quality of the items given to them, which was heartening. For the Salvation Army and LWF team members, it was good to see people move back into the community equipped to some extent to deal with the conditions they face during the winter months.
Report by the Communications Section
International Headquarters
Photos showing Salvation Army work in Jordan are available on the IHQ Flickr site: sar.my/iesjordan