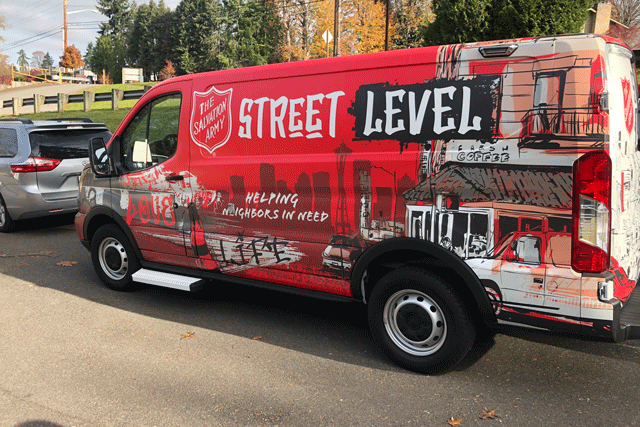 Street Level van outreach gets people off the streets, into permanent housing
Implementing 'The Way Out' in Washington's King County
By Karen Gleason – 
When the Street Level van heads out into King County, Washington, people take notice—it's hard to miss the colorful Salvation Army vehicle. An outreach of The Salvation Army Seattle Social Services, Street Level ministers to people experiencing homelessness by building relationships and establishing trust between service team members and those coming to them for help. The ministry has produced significant results in placing people in permanent housing, doing its part for The Way Out initiative—thanks to these strong relationships. 
In 2019, Street Level committed to permanently housing 21 people. Instead, of 210 individuals encountered, the team permanently housed 142 of them. The goal for 2020 was set at 32, and in January, 20 people were permanently housed—more than 50 percent of the annual goal in the first month of the year. 
"I'm proud to be working here," said Jonathan Schultz, Outreach and Community Engagement Specialist for Seattle Social Services. "I was instructed to house two people each month—I'm happy to say I have succeeded in that goal."
Currently, Street Level has just one van, but the Northwest Division hopes to expand the program.
"We have a vision to expand to multiple vehicles that would spread out across the county, including in Downtown Seattle," said Northwest Divisional General Secretary Captain Jonathan Harvey.
The team typically goes out four days a week, sometimes more, to conduct outreach.
"We also take every opportunity presented to us," said Schultz. "I can think of at least three occasions where one of us went into a business and ended up serving someone we happened to meet there."
Recently, Seattle's King 5 News reported on the program's success in helping people in the more underserved cities outside of Seattle, including Kent, Auburn and Renton. Per the terms of the program's HUD contract, Street Level's current focus is South King County, which has seen increases in people living in their vehicles or on the streets. 
In 2019, the Federal Way Mirror reported an "astonishing increase in homelessness throughout South King County" after the annual One Night Count for the Homeless, citing a 68 percent increase, possibly due to the dismantling of homeless camps in Seattle. 
Schultz emphasized the partnership between the team and clients is the key element in Street Level's success. Taking services to the front lines of need is also essential—these individuals often do not have the means to transport themselves to service providers. The Street Level van is equipped to provide client interviews and case management in the field. 
Partnerships and networking have helped the program, with community leaders, housing entities, social service agencies and law enforcement all supporting the program. The team often works with Multi-Service Center, Catholic Community Services, Mary's Place and WYCA. 
Team members can assist in documentation gathering, transportation needs and other challenges that may arise in the housing process. Housing stability plans are developed based on the needs of each individual or household.
A Street Level team offers warm beverages and basic necessities like socks and personal hygiene products. The program also hosts regular gatherings that provide food, worship music and a devotional message. Thanks to partnerships with Operation Nightwatch and Community Dinners, gatherings now occur every Tuesday, when about 100 meals are served. Ultimately, the goal—through relationship-building—is to guide people onto the path to permanent housing. 
Street Level continues to keep in touch with people once they secure permanent housing. Should they face homelessness again, they can reach out to Street Level for further assistance.
"We try to provide opportunities for our people to build community," Schultz said. "We often invite them to local corps. What it comes down to is that we make sure we are available to them and that they know they can reach out to us if they need help."