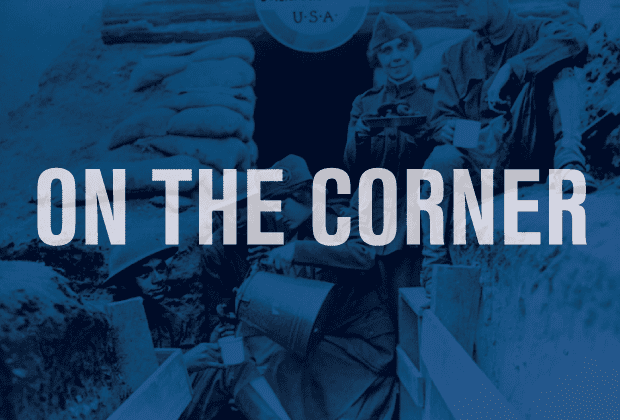 Staying Positive
By Bob Docter – 
So, how positive are you right now?
I mean "overall positive"—no negatives. Does your entire persona approach life with an optimistic spirit? It's hard to be optimistic when things go wrong, when the opposition is winning, when the future seems cloudy, when there are dark thoughts and feelings, when resources match neither necessities nor demands, where there seems to be no way out.
Rough times put few smiles on faces.
Ask any social worker who seeks to provide genuine change—the kind that cannot be found in a paper bag full of food. While that resolves one problem, it doesn't address the big ones—a client's spouse abusing a substance, her daughter's behavior, the poverty condition, the absence of suitable housing. Those carry most of the pain. The bag will feed, and then it's gone.
The paper bag fails to fix the actual problem. This family seems continually in crisis, with aspects of some considerable dysfunctionality. They seem to think people want to intervene, when all they really want to do is help.
So, let's say that this mother arrives the next day at a Salvation Army corps. This social worker wanted to offer deeper assistance to the woman, who specified said that all she wanted was the food. It was provided, along with other suggestions of resources that might assist.
Let's say the social worker had been trained in a new approach to dealing with client problems—called "Pathway of Hope"—and the corps officer trained some corps soldiers in a program called "MissionBridge."
The pathway is a carefully planned out line that introduces one to a strength-based process. The client completes "a comprehensive assessment of the client's current situation with a focus on strengths including a delineation of desired goals and personal resources." It includes six major areas: "Daily Living Situations, Family Finances, Education, Social Supports, Health and Spirituality." The client's current situation, aspirations and personal resources are examined during an interview.
The corps advisory board created an ad hoc committee on emergency assistance to "bring a strong voice to the table, be a catalyst for leveraging the resources of the community, open up new networks that the Army could connect with, and mobilize forces to not only serve but also help families with children solve root causes of the barriers that are currently placing them in crisis or making them vulnerable."
It's a noble goal, further strengthened by the MissionBridge—an initiative to help the corps soldiers know more about the Army's social services work. Related training equips and empowers soldiery to effectively build bridges by: coming alongside social service participants, sharing life experience in a positive way, engaging in meaningful dialogue, inviting families to the corps, and being supportive to social services staff.
Together, these Army programs look to equip our officers and soldiers to bring hope to the community.
I'd say that's something to feel positive about.