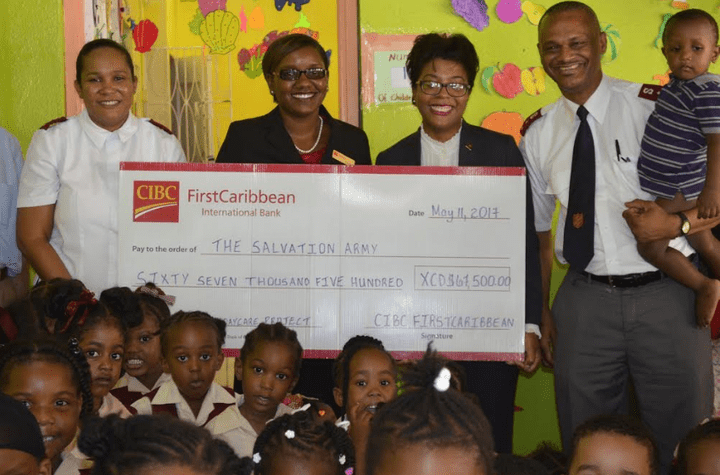 St. Lucia preschool and day care receives major boost
CIBC First Caribbean Bank donated $75,000 to help support single mothers and their children.
A recent poverty assessment for St. Lucia highlighted children and single mothers as the most vulnerable members of society. As one of the island's social service providers, The Salvation Army offers a critical safety net.
The Castries Corps' affordable preschool and day care program makes daycare and early childhood education more accessible to families with children of 3 months to 5 years old. Currently there are 70 children enrolled in the two programs.
"The daycare and preschool continue to enable single mothers to find work, and hold down a job when they become breadwinners," said Castries Corps Officer Captain Derrick Mitchell. "Sometimes they work late, so there is a peace of mind in addition to the early childhood education learning we provide here."
Recently, the program secured a $75,000 grant from CIBC First Caribbean Bank. This donation is in addition to the bank's annual contribution to the St. Lucia Division.
Ladesa James-Williams, CIBC First Caribbean's Country Manager, said the bank, through its charitable arm, the FirstCaribbean ComTrust Foundation, was delighted to support the work of The Salvation Army. She said the bank's relationship with The Salvation Army dates back 115 years to its heritage bank, Barclays.  
"We are happy to continue this tradition, because we recognize that The Salvation Army does exceptional work in the community, that children are major beneficiaries of your work and children are especially dear to our heart," Williams said, adding that more is gained when "we link hands with social partners with real impact."
Mitchell expressed gratitude to the bank for the generous donation, noting that it would assist those with the greatest need—single mothers and their children.
In addition to the preschool and day care programs, The Salvation Army's annual outreach programs in St. Lucia include a daily feeding program, monthly delivery of food baskets and parcels, a thrift shop which makes recycled clothing, furniture and household items available to families, emergency disaster services and outreach to homebound seniors.