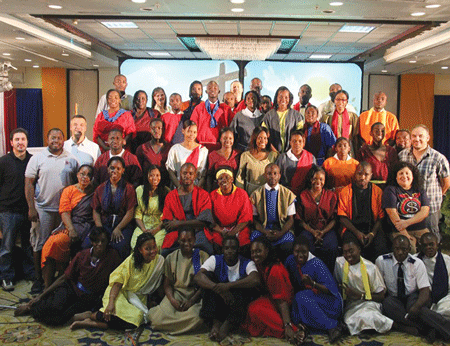 'Spirit! 2' inspires Caribbean Territory
USA Western team travels to Jamaica to help stage the production.
A team from the USA Western Territory traveled to Kingston, Jamaica, in November to help the Caribbean Territory mount a production of the musical "Spirit! 2: Empire" for its 125th anniversary celebrations.
"Since it would take place in a hotel ballroom, part of a larger meeting, we decided to create a new, cutdown version of the musical for this performance" said the writer, Karl Larsson. "We reframed the story so that it was Paul, in prison, dictating his life to Luke, and using his fellow prisoners to act out certain scenes. It worked rather well, and allows for the musical to be performed by much smaller casts, without the need for elaborate sets or costumes."
The team initially flew to Kingston for a weekend last summer to introduce and cast the musical. Weekly rehearsals were then run locally by Terron Craig, the territorial music and creative arts director for the Caribbean. "I was a little out of my comfort zone, but the cast worked with me, and I could sense the excitement build as the musical came closer together, week after week," he said.
The USA Western team then returned the week before the performance to help Craig put the finishing touches on the performance, and set the stage and audiovisual equipment in the hotel.
The musical made up the second half of Saturday night's "Musical Extravaganza," which also featured contributions from General Linda Bond, the Trinidad and Tobago Steel Pans, the Kingston School for the Blind, and the New York Staff Band.
"The talent across the worldwide Salvation Army never fails to amaze me" said Kevin Larsson, composer. "With limited rehearsals the cast knuckled down and delivered a fine performance that blessed the many people fortunate enough to be in attendance."
A recording of the entire event is available at salvationarmycarib.org.