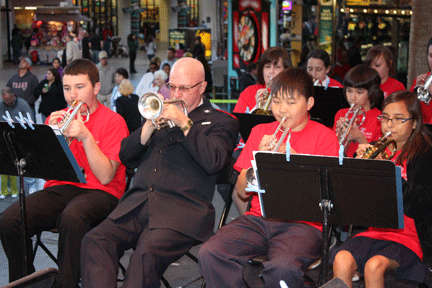 Southwest Divisional Youth Band takes center stage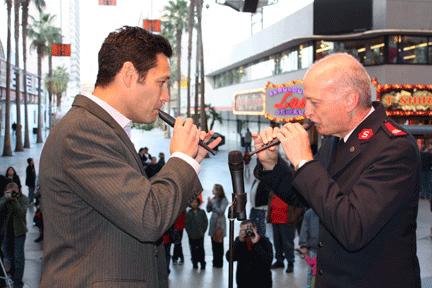 Band performs at Las Vegas' Fremont Street Experience.
The Southwest Divisional Youth Brass Band recently gave an outdoor concert on center stage at the renowned Fremont Street Experience, as arranged by Clark County Development Director Charles Desiderio and Captains Rob and Monica Covert.
Over 40 young people from around the division including Tucson, Phoenix, Tempe, Chandler and Sun Cities, Ariz., and Las Vegas as well as a few senior band members participated. They traveled up to 450 miles to Las Vegas (one way) for this opportunity to play in a professional atmosphere.
Jason Feinberg of FOX 5 TV was guest conductor and—not to be outdone by the youth band—played a recorder duet with Major Robert Lloyd, Clark County coordinator.