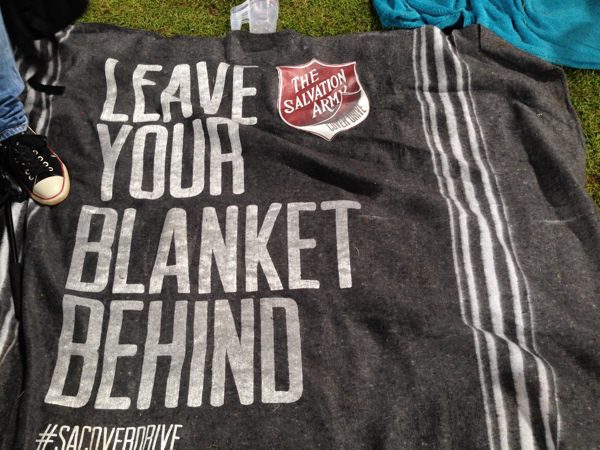 'Leave your blanket behind'
South Africa's advertising campaign prompts recognition from the Global Product Council. 
The Salvation Army Southern Africa Territory's public relations team and its advertising agency, OwenKessel Leo Burnett South Africa, recently won a Global Product Council (GPC) Award for advertising.
"This council critiques agencies just like the Cannes Festival critiques films," said Major Carin Holmes, public relations secretary for the Southern Africa Territory. "They are hard, tough and will tear you apart."
"Leave Your Blanket Behind" caught the attention of the GPC.
Every year The Salvation Army in Southern Africa collects blankets for people experiencing homelessness, especially during the winter. When OwenKessel Leo Burnett South Africa suggested collecting the blankets before they're needed most, the brainstorming led the agency to one of the country's favorite summer pastimes—a cricket game for which fans bring blankets to sit on.
They printed the simple message, "Leave Your Blanket Behind," on blankets of their own, and placed them around the grass seating area of the stadium for all to see. Agency and Salvation Army representatives were there to interact with the sports fans.
By changing the way the Army had collected blankets in the past—from "donate a blanket" to "leave your blanket behind"—they managed to collect 10 percent of the annual drive in just four hours.
The GPC awarded OwenKessel Leo Burnett South Africa a 7.5 rating on its worldwide scale for excellent craft of a good idea, making it only the second South African team to score that high in the past 18 years. The GPC recognizes work on a scale of 1-10: 1 being an idea that damages a brand and 10 being an idea that changes the world  A jury of some of the world's best creative directors determines the ratings, and there has yet to be a score of 10 for any idea.
"An 8 is for advertising that successfully changes people's behavior so that they change the world," Holmes said. "We need to strive to get there."
The Salvation Army Southern Africa Territory and OwenKessel Leo Burnett South Africa have enjoyed a long standing relationship; in fact, the agency does its work for the Army on a pro bono basis.
Recently, the two organizations have coordinated effective campaigns addressing human trafficking. In 2013 The Salvation Army Southern Africa successfully exhibited at the Johannesburg Sexpo-Health and Lifestyle Expo, spotlighting the plight of trafficked individuals.
"We are blessed and honored to be associated with OwenKessel Leo Burnett," Holmes said. "They truly express and respect that which we as The Salvation Army stand for and strive toward."