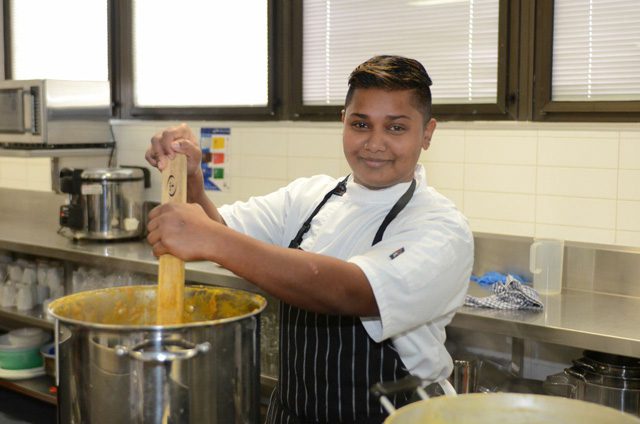 Soul Food
The Salvation Army helps Australian immigrants reach culinary aspirations
The Salvation Army in Auburn, Australia, led by Captains Nesan and Cheryl Kistan, is situated in the country's most multicultural suburb, and also one of the most marginalized and lowest socioeconomic communities. According to the Australian Bureau of Statistics, 42 percent of those living in the Auburn community are Muslim while other religions each account for less than 13 percent of people.
"Auburn Salvation Army is a large multicultural church family; we see many people become Christians from a variety of faiths," Nesan Kistan said. "God is truly at work in the Auburn community through Auburn Salvation Army."
Auburn is a community of multiple nationalities with a majority of community members who are refugees or migrants, and most people speak English as only a second or third language. Many of those new migrants are skilled workers in their own countries but struggle to learn English, have their skills and formal education recognized, and find permanent full-time employment.
The Auburn Connect Community Kitchen is a partnership between The Salvation Army and Bright Employment, an agency with a focus on refugees and asylum seekers, referred to as new immigrants, with visas allowing them to work in Australia.
"This is a great example of The Salvation Army doing what it does best, partnering with businesses to serve the poor, bringing community transformation in Jesus' name, making a difference in the world, seeing how The Salvation Army helps people find freedom, and partnering with us in God's great plan," Cheryl Kistan said.
Bright Employment provides students with a six-week culinary training program and then places them in hospitality jobs with on-the-job support for 18 months.
Head chef Ty Bellingham, former head chef of Sailors Thai at the Rocks in Sydney, appeared on Masterchef Australia and Good Morning America. Hassan, the chef who teaches the students, oversees the operation of the kitchen.
The students have two weeks in the Bright Employment classroom, and then come to Auburn Salvation Army to operate the community kitchen for four weeks.
The first class of students all gained full-time employment in Australia's top restaurants including Otto, Accor Hotels and Renaissance Sydney.
"For us at The Salvation Army, [the partnership] is allowing us to help refugees and asylum seekers find pathways to employment, but we are also seeking to provide this community a place where people can meet together and find a place of acceptance and belonging," Cheryl Kistan said
Anyone is welcome to have lunch at the community kitchen, and a donation of $5 is encouraged. Those with a healthcare card or immigration papers may donate a gold coin, but if there is real hardship meals are provided at no cost. "William Booth called us to feed the bodies of men and women before we feed their souls," Nesan Kistan said.
Auburn Salvation Army services also include various youth programs like homework clubs, "Street Dreams" hip-hop dance classes and kids clubs in local parks, as well as English classes, emergency relief for those in financial difficulty, gambling addiction counseling and Salvos Legal—a free professional legal service that provides assistance with cases including immigration issues.
"The community looks to The Salvation Army for assistance and advice on many issues facing the local community, and everything that is done by The Salvation Army is done in the name of Jesus," Nesan Kistan said. "We're looking forward to where the journey goes to from here."