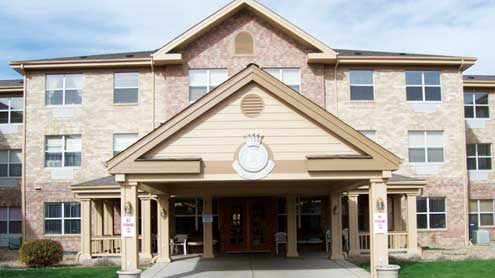 Silvercrests add brightness to sunset years
For seniors, The Salvation Army Silvercrest residences enrich quality of life.
 By Buffy Lincoln
Growing older can be fun if you know how to do it, and the Silvercrest department is one of The Salvation Army's myriad holistic community outreaches geared to serve the low-income and disabled senior citizen communities by offering opportunities to do it right.
Its mission is "to provide clean, safe and comfortable housing to low-income elderly persons, and to do so in an environment that is sensitive and responsible to the needs of the individual residents, but not intrusive of personal privacy."
With the neighboring corps community center, Silvercrest residences seek to provide a range of supportive services intended to sustain independent living and to enrich the quality of residents' lives through opportunities for social fellowship, personal growth and spiritual nurture.
Starting small in the mid-1970s, by 2003 the Western Territory added a dedicated Silvercrest management department at territorial headquarters to serve the business needs of the properties and to increase the number of facilities.
Today, there are a total of 37 facilities in the Western Territory with one additional location in San Francisco, managed by an outside source. These senior housing listings span across eight states in the West and consist of anywhere from 22 to 257 units each. Most Silvercrests neighbor Salvation Army corps to offer the residents a place to worship, socialize and, sometimes, eat. Corps may also share vans for transportation.
Because they strive to maintain a clean, healthy, active environment, most residences are at-capacity and maintain a significant waiting list.
Property Manager Maria Crespo takes pride in her Silvercrest site located in Pasadena, Calif. "Every need for our seniors is met here," she said. "We provide not only a safe environment, but throw in events that allow our residents to be well-informed with their community and world by inviting outside groups to give demonstrations."
The Pasadena Police Department and Fire Department have come in to share tips on fire hazards and how to protect yourself in an emergency. The facility also offers Tai Chi classes and health fair screenings.
The Salvation Army receives grants from the Department of Housing and Urban Development's (HUD) 202 program to finance all but three of the facilities. (Those three sites are under the care of the Southern California Division.) The grant between the Army and HUD guarantees the apartments will be available only to low-income senior citizens and handicapped persons. At least one person aged 62 or over must live in each room, with rent rates set by HUD based on median incomes and any agreements in place when the building opened. HUD performs a yearly rent evaluation process and adjusts the rates in relation to projected financial needs for each property.
The grants received by the Army through HUD cover maintenance, subsidy for each client and all operating expenses. This secure and worry-free policy allows for a more comfortable home for the residents with minimal personal responsibilities. Private donations can be made to support any individual's rental expenses; however, they must be given as gifts and not for tax purposes.
Grant money received from the government cannot be used for expenses such as trips, social gatherings, decorations for the facility and crafts. Outside donations are used for these extras. And because HUD makes no provision for transportation, if it is needed and the adjoining corps owns no vehicles, donations can be used to provide the means for traveling.
Chit, Claire and Lois live in the Silvercrest in Pasadena. In fact, Lois was one of the first tenants when the facility first opened in 1996. Claire has been there for two years and Chit has been there "over 10 years at least."
"The building, our rooms were beautiful," Lois said, "but we had nothing downstairs [in the community room]. We held a potluck fundraiser to buy our first coffee pot, then we kept a fund going to provide the coffee. But everyone chipped in and we made it work."
That is the attitude of many of the residents. If they want something to happen, they make it happen. Often, residents provide services for the other residents. Chit teaches English as a Second Language (ESL) classes to the residents who want to learn or improve. An accomplished pianist, she has also extended her abilities to others through private piano lessons.
"And I don't just give lessons," she said, "I do the whole thing. I give them homework assignments and we hold recitals for our neighbors and even invite the corps. Afterward, we get together to discuss it."
Crespo advised that among the favorite activities, Bingo reigns. "The residents play for 'living' items, such as toilet paper, soap, lotion and paper towels," she said. "These items usually come from the corps."
Because HUD disperses a federal government grant, no religious demands or expectations are permitted on the residents, meaning they cannot be required to attend any Bible studies, church services—of any kind—or any activities at a nearby Army corps. These services may be offered, as many facilities do, but no resident is forced to attend.
"One of my favorite things to do is go to Bible studies at the corps," Claire said. "They teach us how to love here. I like the activities in the corps, especially their children's programs and the food boxes."
Silvercrest management is responsible for staffing, supervision, budgeting, financial operations, maintenance and capital improvements, resident relations, program facilitation, community interaction, HUD compliance and relations, and monthly reporting to the divisions and territory. The four main focuses of Silvercrest management are to: 1) improve and maintain the short and long-term financial stability of the properties, 2) improve and/or maintain the physical condition of the properties, 3) promote and facilitate ministry programs and social services at each Silvercrest, and 4) interact closely with the divisions and territorial headquarters leadership to ensure thorough communication and comprehensive reporting of the conditions of each Silvercrest site.
Through Silvercrest, The Salvation Army provides an invaluable service to the elderly and disabled—regardless of race, religion or creed—by offering an environment that is not only safe, but supplies their needs for services and spiritual support.
And Chit, Claire and Lois attest to it.
"I love the unselfishness of the Salvationists," Chit said. "They make us feel that there's no such thing as an impossible dream."
Claire added, "You can live out your potential here. And we don't just take, but we can give too."
This is evident in the many sewn and crocheted articles—including neck warmers and rag dolls—that Lois makes to sell and give away. According to her, "My dolls hug you back."