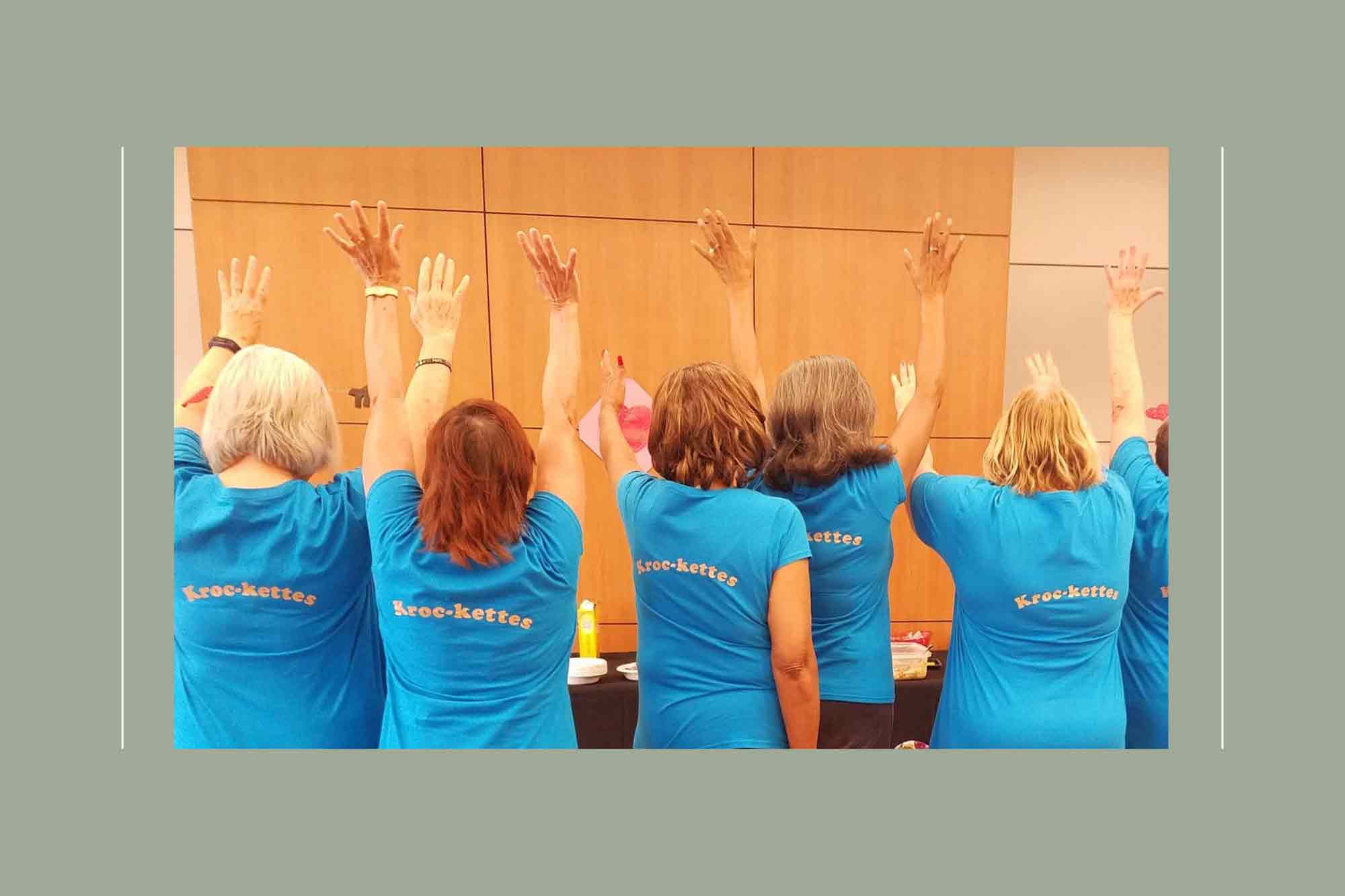 Suisun City Kroc-kettes build social bonds in and out of the pool—and have fun
The Salvation Army Kroc Center in Solano County creates community for its members.
"I don't know how many strings I need to pull to become a member," Major Bob Louangamath said about his hope of joining the Kroc-kettes, a one-of-a-kind social group that formed organically from a water aerobics class at The Salvation Army Suisun City (California) Kroc Center.
"They are always having fun—and they do a great job promoting the center," said Louangamath, who with his wife, Joanne, arrived in Suisun City in July 2021 to serve as Kroc Center Corps Officers and Solano County Coordinators.
The Kroc-kettes group is composed of about 10 to 15 women, mostly seniors, all of whom participate in the center's water activities, primarily water aerobics therapy. Many of them have been in the water together for years, prior to the Kroc Center, when the property housed a YMCA.
The seed of what would become the Kroc-kettes began to germinate during that time at the then-YMCA, when those who would become its core group took water aerobics from instructor Sandy Stone, who would later teach at the Kroc Center.
One of her students at the YMCA, Ann Baker, moved to Suisun City after living in Los Angeles for 40 years. She immediately sought out a place to exercise and found the nearby YMCA. She said it was great, until it closed in 2008, beginning a long, dry spell for the water aerobics participants.
"Then [in 2012] the Kroc Center came—and was I the first customer here? When I heard that name, The Salvation Army, I was enlightened by that," Baker said.
Reunited at the Kroc Center, the women continued their water aerobics instruction with Stone, and they socialized after class and on other occasions.
A few years ago, before the pandemic, members decided to make their group "official."
"I'm a person who likes to plan things," Baker said. "One day I was sitting in the lobby and I said, 'We should give ourselves a name.' And that's how the Kroc-kettes came about."
Soon the Kroc-kettes were sporting aqua-colored t-shirts, with the member's first name printed on the front and "Kroc-kettes" on the back—perfect for when the group ventures outside of the center, too.
"We're a bunch of ladies that go out and have lunch together, go into Sacramento and look around, go on the ferry boat…We just have a lot of fun," Stone said. "I believe it's also good advertisement for the Kroc Center."
During the pandemic, the group put its field trips on hold, but they're getting out again to places like Old Town Sacramento and San Francisco. Louangamath said people always ask about their shirts, and the Kroc-kettes represent the center well, explaining what it offers and the benefits of membership.
"They enjoy life and love coming to the Kroc Center," he said.
Even though they couldn't take excursions during the height of the pandemic, group members maintained their connection.
"I am so pleased after all these years I continue to come here—rain or shine, COVID or whatever," Baker said. They are always here for us."
Kroc-kette Chip Holland,73, noted that as people get older, it's not just exercise they need, but also the support of friends. "I have found here a family of friends. I wouldn't leave…It's the pool, the companionship. It's the staff that cares about you. There's a real sense of being supported here."
Not long ago, the pool heater stopped working and the pool was closed for four months, the time needed to receive and install the necessary part. To keep their spirits up, the Kroc-kettes took a poll to see who could guess the date the heater would be working again. The winner—who guessed her son's birth date—received a gift card and one-month free membership.
With the pool open again, classes are back to normal. That water? It might just be the fountain of youth.
"I can tell you one thing," Baker said. "No one would ever know my age. And a lot of it has to do with this club. I don't tell this to everybody, but I am 80. But I know I look 40. I am blessed and highly favored."
---
Do Good:
Did you know The Salvation Army served 31 million Americans last year fighting hunger, homelessness, substance abuse and more—all in a Fight for Good? Where can you help? Take our quiz to find your cause and learn how you can join in today.
Want more content from Caring Magazine? Follow us on Instagram! Get caught up with the latest stories, podcasts and more to inspire goodness in your life.
Read more about how The Salvation Army serves the community in Solano County, California, creating a safe space for single mothers.