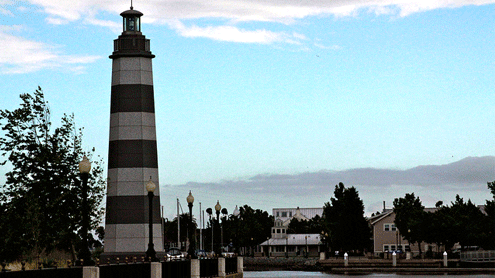 Suisun City Kroc Center opens in the West
The territory's final Kroc Center is dedicated
By Erica Andrews
The Western Territory dedicated its final of seven Ray and Joan Kroc Corps Community Centers May 25-27—the Suisun City Kroc Center—a $44 million, 60,000-square-foot facility in this small Northern California community.
"We've been given a unique opportunity in Solano County with the amazing gift of the Kroc Center, all we have to do is choose to step through the doors and do something with it," Captain Jonathan Harvey, Suisun City Kroc Center corps officer with his wife, Vickie, said.
The Salvation Army purchased the one time YMCA owned building in December 2009. It began renovations in January 2011, after receiving $44 million through funding from Ray and Joan Kroc—who bequeathed $1.5 billion to The Salvation Army to construct 27 such centers nationally.
The new Suisun City Kroc Center offers state of the art fitness and aquatic centers, a large kitchen, a multi-use gymnasium, dining facilities and a soon-to-open theatre, along with a wide variety of learning programs.
Captains Harvey, along with Suisun City Kroc Center employees, greeted 200 guests as they came to celebrate the new building at the donor reception over Memorial Day weekend. The reception gave thanks to the many people who have helped in the building of the new center—including GRA Architects, Ascent Builders and BRS Design.
Jelly Belly's Herman Rowland was honored with the Champion Award for his support of the Suisun City Kroc Center. Advisory Board Member Suzanne Bragdon, Divisional Leaders Majors Lisa and Bill Dickinson, and Territorial Commander Commissioner James Knaggs spoke at the event.
"Mrs. Kroc pointed us in the direction of this extraordinary gift and asked us to be more extravagant, to be more creative," Knaggs said, "so that when young people come into these facilities, they'll not only get a sense that the place is special, but that they can become special as a result."
The following morning, more than 1,000 residents of Suisun City as well as a number of local politicians, including Advisory Board Chairman Steve Lessler, Congressman John Garamendi and Mayor Pete Sanchez, attended the public dedication of the facility. The official opening day also included a fair with live music provided by local groups including the USAF Band of the Golden West; bounce houses, a climbing rock wall and a zip line.
"Through this extraordinary building will be coming children from all over this area," Garamendi said. "This is a good day for all in this area."
On day three of the opening, 166 residents of the area attended Sunday morning worship service held in the multi-use gymnasium of the center. Worship was led by Captain Harvey and included Christian reggae music by local community members.
Knaggs spoke from Jeremiah 29:11: "For I know the plans I have for you," declares the Lord, "plans to prosper you and not to harm you, plans to give you hope and a future" (NIV).
"I think that's something of our own hope and our own future for this core community center," Knaggs said. "That people will begin to understand that this is a safe place…where they can prosper and where they can grow in mind, body and in soul."