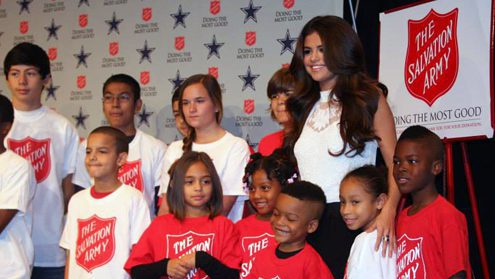 Selena Gomez to kick off 123rd Red Kettle Campaign
Actress and multi-platinum recording artist Selena Gomez will perform live at AT&T Stadium during halftime of the Dallas Cowboys game against the Oakland Raiders on Thanksgiving Day, Nov. 28, which kicks off The Salvation Army's annual Red Kettle Campaign.
The halftime performance marks the 17th year the Dallas Cowboys have partnered with The Salvation Army to launch the campaign, which raises money to provide meals and shelter for families in need, Christmas toys for children, and numerous other social services. Last year, the Red Kettle Campaign collected $148.7 million.
This year Gomez, 21, released her fourth album, "Stars Dance," which debuted at number one on the Billboard charts. She also won an MTV Video Music Award for "Best Pop Video."
"Dallas is my hometown, and to be invited to perform on behalf of The Salvation Army is such a great honor," Gomez said. "Giving back is so important, and I am looking forward to kicking off the iconic Red Kettle Campaign and getting those bells ringing across the nation to help families and children in need.
In an email interview with New Frontier, Gomez—who also works with UNICEF—said this is not her first experience with The Salvation Army. "I always do the Angel Tree with my parents; we go to the mall, pick the angel and then go shopping. It's really fun and I enjoy it every Christmas," she said.
In this performance, Gomez said she is hoping to inspire her home city. "I was just a girl with dreams of being on stage and my dreams came true," she said.
"We are thrilled to have Selena kick off the Red Kettle Campaign and be a part of this time-honored tradition. Her amazing performance, a national stage and a huge, enthusiastic fan base will be a powerful start to Red Kettle 2013," said Charlotte Jones Anderson, executive vice president and Chief Brand Officer for the Dallas Cowboys and national advisory chairperson for The Salvation Army. "The Salvation Army touches so many lives and provides nourishment, shelter and support for children and families in need. Together with Selena, we celebrate the important impact of The Salvation Army's work in doing the most good."
The Red Kettle Campaign runs from Thanksgiving Day through Christmas Eve and is the largest and longest-running fundraiser of its kind. The campaign has raised more than $1.75 billion since the Dallas Cowboys Thanksgiving Day partnership began in 1997. With the Thanksgiving holiday falling later in the month than usual, this year's Red Kettle Campaign is more critical than ever.
"Though the Red Kettle campaign is five days shorter this year, we are confident that the attention that partners like Selena Gomez and the Dallas Cowboys are bringing to the cause will more than make up that difference," said Major Ron Busroe, national community relations and development secretary for The Salvation Army. "We strive to help America's most vulnerable—children, and ensure that they have a warm, comfortable place to sleep and hot food to eat and toys to play with at Christmas."
In support of the Red Kettle Campaign, Selena will host her own Online Red Kettle and encourage fans to join her team and donate to The Salvation Army. Eight fundraisers will receive the chance to virtually connect with Selena through a Google Hangout.
"You should expect something new with a twist of old," Gomez said of her upcoming performance. "We had to make it special for my hometown."
In addition to giving online or to the more than 25,000 traditional bell ringers, supporters can donate through the Army's text-to-give program. Text "KETTLE" to 80888 and send $10 to the Red Kettle Campaign.