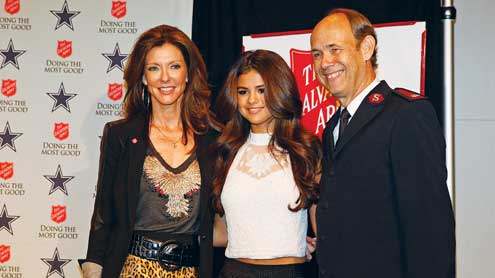 Selena Gomez to kick off 2013 Red Kettle Campaign
Actress and multi-platinum recording artist Selena Gomez will perform live at AT&T Stadium during halftime of the Dallas Cowboys game against the Oakland Raiders on Thanksgiving Day, Nov. 28, which kicks off The Salvation Army's annual Red Kettle Campaign.
The halftime performance marks the 17th year the Dallas Cowboys have partnered with The Salvation Army to launch the campaign, which raises money to provide meals and shelter for families in need, Christmas toys for children, and numerous other social services. Last year, the Red Kettle Campaign collected $148.7 million.
"Dallas is my hometown, and to be invited to perform on behalf of The Salvation Army is such a great honor," Gomez said. "Giving back is so important, and I am looking forward to kicking off the iconic Red Kettle Campaign and getting those bells ringing across the nation to help families and children in need."
Read more at newfrontierpublications.org/nf/selenakickoff