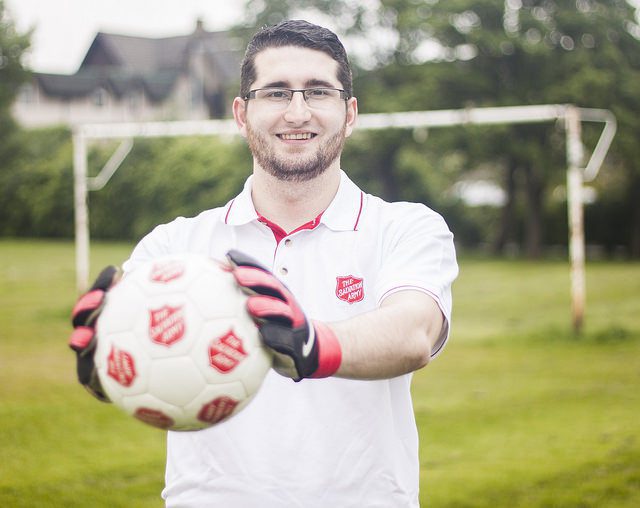 Salvationists open homes for Commonwealth Games attendees
By David Giles – 
Her Majesty Queen Elizabeth II formally opened the 20th Commonwealth Games in Glasgow, Scotland, July 23 for a sporting spectacle that brings together 4,500 athletes from 71 countries in 11 days of competition across 17 disciplines. The Salvation Army in Scotland will be playing a major role, staging a range of initiatives to enable visitors and locals to make the most of the event.
Adopting a model honed at the 2012 Olympic and Paralympic Games, legions of Salvation Army volunteers will hand out tens of thousands of bottles of water at railway stations close to the Games venues. With a history of service in the city dating back to the late 1800s, The Salvation Army will be on hand to offer local advice as needed.
The Salvation Army is also taking part in a More Than Gold scheme to give athlete families and Games volunteers a place to stay during the event. More than 170 people from churches across Scotland are hosting visitors, many of whom would otherwise be unable to afford the experience. The Erskine Corps, on the banks of the River Clyde near Glasgow, hosted a dinner for 60 Games volunteers of different nationalities July 20.
Bobby Weir, sports ministry coordinator for The Salvation Army United Kingdom Territory with the Republic of Ireland Territory, ran with the Queen's Baton through his home town of Airdrie. He shared the honor with Captain Stephen Moir, corps officer in Cumbernauld, in recognition of the inspirational work they are doing in their respective communities.
"Through sport, The Salvation Army is serving those in difficult life situations by simply having fun or making welcome those who normally cannot join in," Weir said. "And in many of our Lifehouses [shelters], sport is enabling residents to learn life skills, build relationships and regain confidence."
Scottish corps from Orkney in the north to Stranraer in the south will be holding special sports-themed activities this summer, through a program designed to establish a sporting legacy.
While the Games are intended to be a celebration of sporting achievement across the Commonwealth nations, Scottish politicians have expressed concern that the international event could lead to an influx of victims of human trafficking. As the main provider of support for trafficked persons in the UK, The Salvation Army is supplying volunteers to oversee UN GIFT Boxes—walk-in pieces of public art that show the devastating reality of human trafficking—positioned around Glasgow through the Games conclusion Aug. 3.