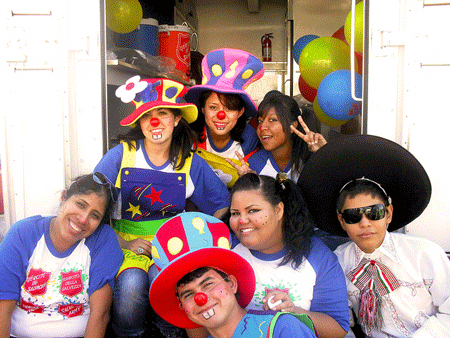 Evangelism at Pan American Games in Mexico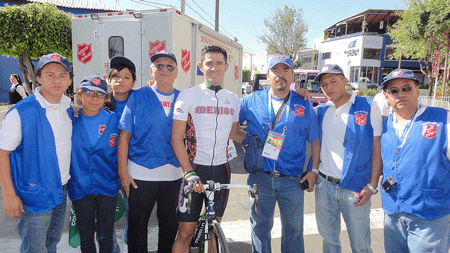 Salvationists take part in daily outreach during early days of the games.
Like The Salvation Army's Founder, William Booth—whose goal was not fame or fortune but to win souls for Christ—so too was the goal of officers, cadets and Salvationists on the streets of Guadalajara during the Pan American Games in October 2011. More precious than the gold, silver or bronze medals won by the 6,000 athletes from 42 nations participating in 36 sports was the "gold" won for Christ: souls of men, women and children.
Twenty-two cadets of the Friends of Christ and Proclaimers of the Resurrection Sessions took part in daily outreach activities during the early days of the games. The cadets, empowered by the Spirit and backed up by prayer, had personal evangelistic conversations with people of all ages and prayed with many. These contacts made a great impact on the lives of the people, and the cadets were blessed themselves.
A second delegation of more than 60 Salvationists took over the spiritual baton from the cadets, participating in many activities from Oct. 22-28. The delegation was composed of officers, territorial headquarters staff, young Salvationists from corps throughout the Mexico Territory and seven Salvationists from Argentina, Paraguay, Uruguay and Chile. Such a large group made an impressive spiritual force under the enthusiastic leadership of Program Secretary Captain Luis Camarillo.
Young Salvationists—many of who had no previous experience of street evangelism—preached the Word of God with courage and commitment. They were driven by a passion for souls in need of God's love. The group distributed brochures, bookmarks, War Crys and other evangelistic literature, buttons and stickers. They also offered a face-painting service. Every avenue of ministry brought opportunity to have direct contact with people, giving them the message of salvation and praying for their needs. One man who was spoken to said he had been considering suicide. His life was changed through prayer.
"Prayer in Motion" targeted the motorists of Guadalajara. Salvationists carried on their shoulders large advertisements with phrases such as "We will pray for you" or "Let us pray for your family." When motorists stopped at red traffic lights, Salvationists spoke with them, offering intercessory prayer for expressed needs. There was less than a minute until the lights changed to green but in that time some motorists were weeping because someone had prayed for them. God touched many lives and softened hearts to his love.
The message of God's love was also shared through various strands of creative arts. Clowning, "living statues," mime, drama, choreographed timbrel, flag and umbrella presentations, singing and Mexican traditional dance were used to attract people's attention—all for God's glory. Community work included a visit to Jalisco Public School, where Salvationists were allowed to present choreography, mime and songs expressing the love of God. In the impoverished community of El Salto, the gospel was presented through creative arts. Comfort and encouragement were given to visitors and patients in Guadalajara's General Hospital. Coffee and bread were given to waiting visitors, but more important were prayers offered for emotional and spiritual strength. Members of three teams, each led by officers, conducted street surveys on social issues such as anti-trafficking, climate change and HIV/Aids. This important information is being processed.
Anti-trafficking information was given out and a video shown, raising awareness about this social evil. The Guadalajara Children's Home—the base for accommodation and all activities—received managers from different social action organizations who learned about areas of The Salvation Army's work, including its anti-trafficking ministry.
God worked through the dedication and passion of officers and young Salvationists who preached and witnessed fearlessly. In total more than 40,000 pamphlets or other items were given out. Direct contact and prayer reached more than 14,300 people. Some people contacted are now worshiping at The Salvation Army.