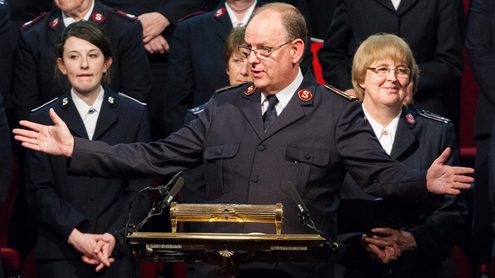 Salvation Army's international leaders officially welcomed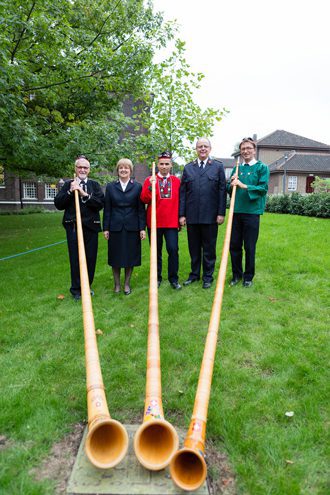 Salvationists and friends join on Sept. 29 to greet General André and Commissioner Silvia Cox.
By Laura Barker
General André Cox told the congregation packed into the assembly hall of the William Booth College in London—and thousands watching online—that he has a dream of an Army on its knees: "a committed, effective and joyful Army, rooted and confident in the word of God." His dream started to come true during a welcome meeting with an international flavor that concluded with many people kneeling at the place of prayer.
After almost two months in office, the General and Commissioner Silvia Cox (World President of Women's Ministries) were officially welcomed Sept. 29 in true international style by Salvationists, family and friends from the U.K. and beyond. The event was attended by church leaders—including the Archbishop of Westminster, the Most Rev. Vincent Nichols—and by the Swiss Ambassador to the U.K., Dominik Furgler. Recognition was given to former international leaders General Shaw Clifton (Ret.), General John Larsson (Ret.) and Commissioner Freda Larsson, and Commissioner Gisèle Gowans.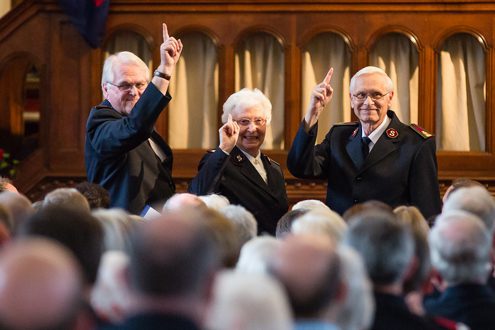 Representing the host territory—whose leaders, Commissioners Clive and Marianne Adams, were also present—Bromley Temple Songsters and East Midlands Youth Band heralded the start of the meeting. Prayer was offered by Corps Sergeant-Major Richard Stock (Regent Hall) and Sarang Kim (Korea Territory), who prayed in Korean. Commissioner Florence Malabi (Africa Zonal Secretary for Women's Ministries, International Headquarters) read from James 1:22—"Do not merely listen to the word, and so deceive yourselves"—a message continually reaffirmed during the meeting.
Corps Mission Secretary Linbert Spencer (Bedford Congress Hall) welcomed the General, saying: "I have a dream that our One Army is inspired by you, General, to exemplify the love of Christ in our world. Welcome General, and may God bless you and your work."
Commissioner Hanny Boschung (Territorial President of Women's Ministries, Switzerland, Austria and Hungary) brought international greetings to Commissioner Cox on behalf of women around the world. In response, Commissioner Cox thanked Salvationists for carrying her and her husband through prayer. She explained how 34 years ago, she and the then Cadet André Cox had signed their officers covenants in the assembly hall where they now stood, never imagining that one day she would be returning as World President of Women's Ministries.
Adding a distinctly Swiss flavor in recognition of the international leaders' home territory, Commissioner Cox introduced an alpenhorn trio that contributed "Dank!" and "Jubelchoral."
Commissioner William Cochrane (International Secretary to the Chief of the Staff, IHQ) led the meeting and offered a prayer of dedication before the General addressed the congregation and Salvationists around the world.
General Cox spoke about the wonderful privilege and awesome responsibility of being the leader of The Salvation Army and urged Salvationists not to forget their first calling of the gospel message in order for the Army to continue as a force for good, positive change and transformation. A time of rededication followed as many people went forward to kneel at the mercy seat.
After the meeting the international leaders spent a time of fellowship with members of the congregation, who were invited to join the General and Commissioner Cox for a traditional British cream tea.