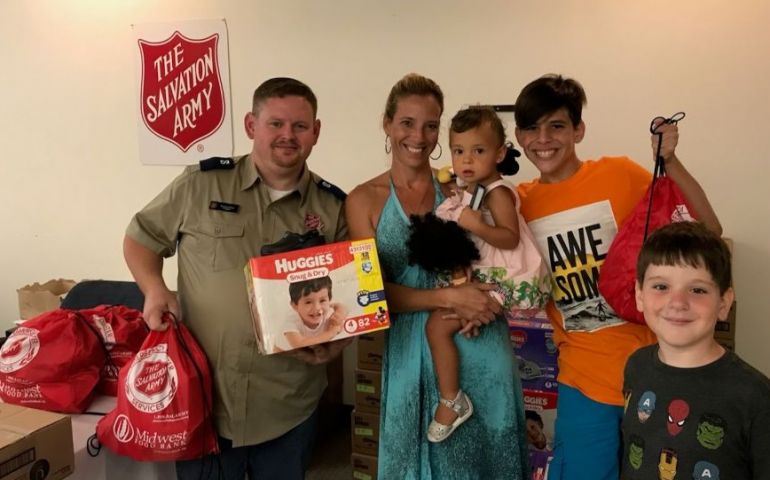 Salvation Army welcomes Puerto Rican evacuees to Florida
Meanwhile, officials continue to help families across the state recover from Hurricane Irma.
By Kevin Smith –
Salvation Army volunteers and case managers in Florida are connecting Puerto Rican evacuees to help as they arrive at airports across the state.
Florida Gov. Rick Scott signed a "Host State Agreement" to establish Disaster Relief Centers, in which state agencies and non-governmental organizations partner to serve evacuees.
"The number one concern that I've heard from families displaced by Hurricane Maria is that they need a safe place to stay so they can begin rebuilding their lives," Scott said. "This agreement with the federal government that I asked for will allow Florida to continue helping displaced families while they are in Florida."
At the Miami International Airport Disaster Relief Center, Chaplain Raymond Boyd is leading The Salvation Army team, which has seen as many as 300 individuals a day. Many of the families that have arrived have only one set of clothing and don't know how to secure additional items for their children.
"Some evacuees have family to join in Florida, but others aren't sure what their next steps will be," said Boyd, who is distributing items such as food boxes, toiletries and feminine hygiene products. "Our goal is to connect them with community services across Miami-Dade and make sure that they have a place to go. In a few cases we have provided a place to stay in our family shelter for a night or two while they connect with resources on the ground."
At the Orlando International Airport, The Salvation Army is distributing 500 meal kits, hygiene packages and baby supply packs per week. They're also distributing vouchers to Salvation Army Family Stores in the Orlando area.  Families with young children are receiving financial assistance to help get a change of clothes and clean undergarments.
"We are seeing children in clothing that they have been wearing for days," said Major Ted Morris, Area Commander for The Salvation Army in Orlando. "We spend a few minutes talking to the family making sure they have basic food necessities covered and a little money for needed clothing."
To date, The Salvation Army Florida Division has distributed more than 4,600 food and hygiene kits and has arranged and shipped 10 tractor-trailer loads of water, baby supplies and hygiene kits to Salvation Army teams on the ground in Puerto Rico.
Meanwhile, The Salvation Army continues to help families across Florida recover from Hurricane Irma. As of Oct. 18, The Salvation Army had distributed more than $4.2 million in aid to Irma-affected Floridians. To continue meeting the needs across southwest Florida, The Salvation Army is setting up additional Disaster Relief Centers in Fort Myers and Naples.
Case managers will help Hurricane Irma survivors navigate local, state and federal resources available to hurricane victims rebuild.