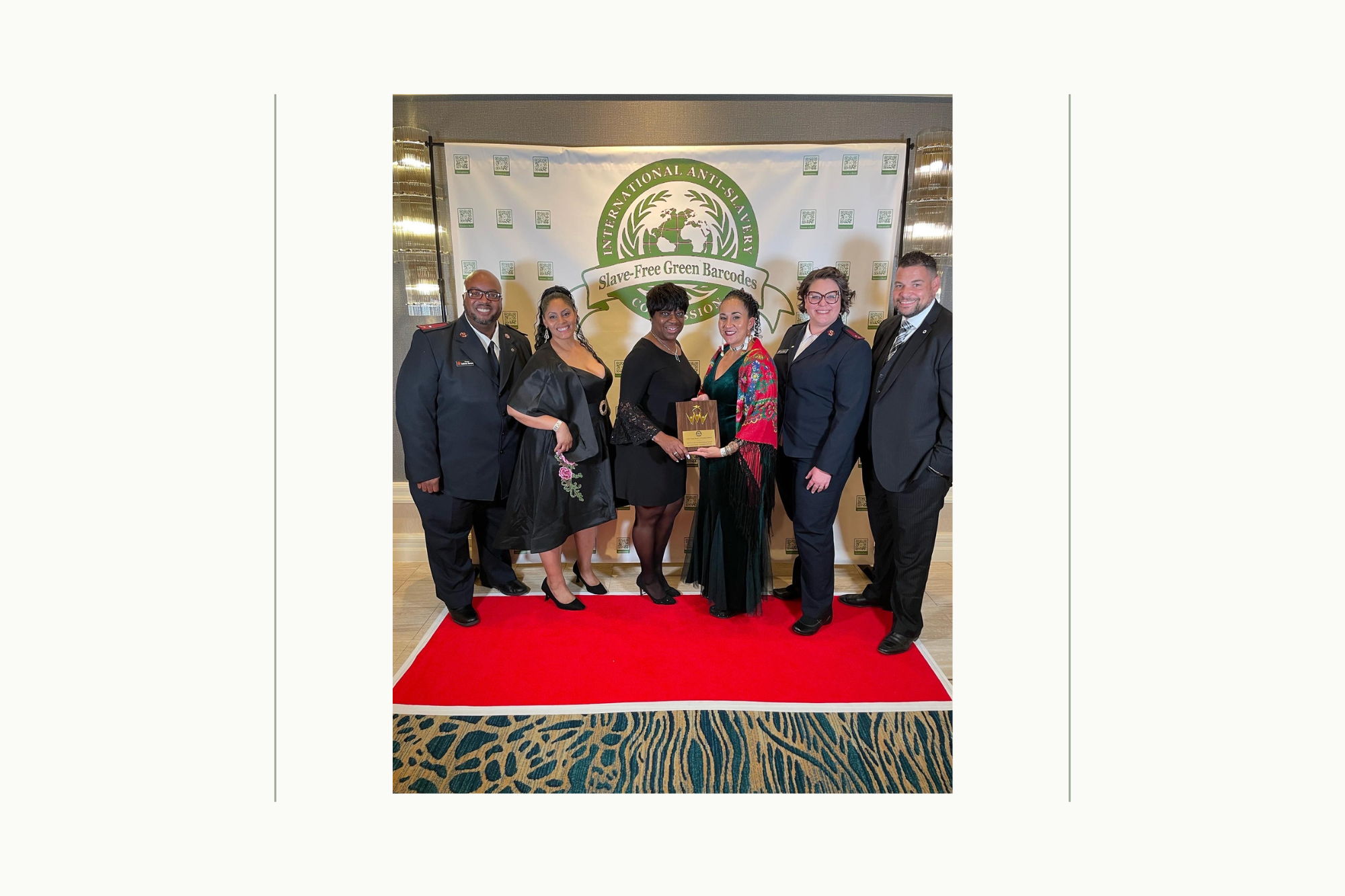 SEEDS of Hope voted best in 'Survivor Care' for anti-human trafficking
The Salvation Army program continues to change lives in Las Vegas through trauma-informed care.
Out of 10 nominees, The International Anti-Slavery Commission voted The Salvation Army Southern Nevada as best in "Survivor Care" at an awards gala Oct. 29.
The award recognized The Salvation Army SEEDS of Hope program for providing shelter, re-homing services, repatriation and other means of assistance in anti-human trafficking services.
"I believe we really do offer the best survivor care here in the Valley," said SEEDS of Hope Human Trafficking Coordinator Jennifer McQuaid.
"I'm not just saying that because it's my program. I'm saying it because of the number of people we serve and because of the success that we've seen," she added, mentioning how the program is currently at capacity, serving 50 clients.
As far as recognition for the award goes, McQuaid said it's the clients who "deserve all the acknowledgment."
When McQuaid joined the SEEDS of Hope team a little over a year ago, she said she wanted to help "empower people to heal themselves" after experiencing trauma.
As a survivor of human trafficking, McQuaid said she learned how to "turn [her] pain into power" and now she can model that process for others.
"My heart has always been in the field of wanting to help, give back and be of service," she added. As a Native American woman, McQuaid said she also wants to "be a voice for [her] own people," and bring awareness to human trafficking on reservations.
For those who have experienced human trafficking, McQuaid said it's opportunities and programs like SEEDS of Hope that allow for transformation to happen. "When you give people an opportunity, you plant that seed of hope and nothing's impossible," she added.
From intake to aftercare, SEEDS of Hope clients receive trauma-informed care focused on safety and building trust. Since coming on board, McQuaid said she's also helped to increase mental health services by requiring each client to seek an initial therapy assessment.
"We had a handful of clients with mental health issues and they weren't able to achieve their goals until the mental health and emotional health needs were met first," she said.
After getting assessed, she added "it's totally up to them" if they want to seek medication or additional resources. "You always want to make sure you're providing survivors with choices," she said, adding how when you empower people to have choices, there is a greater number of successes and goals met.
Over a decade ago, when Captain Lisa Barnes first heard of the SEEDS of Hope program she knew she wanted to get involved. "My mom was an addict and a prostitute…she came to The Salvation Army for a food box," she said, mentioning how that one food box sparked a connection with The Salvation Army that never faded.
"That act of justice changed my whole life," she added, touching on her 14 year history as a Salvation Army officer.
"I wake up every day and I never have to wonder, does my life matter? I know it matters. I know that this movement matters. I know that change is real—it was real for me and I get to see it be real for others," she said.
At the time she heard of the program, Barnes said she and her husband were serving outside of Southern Nevada, but still wanted to find ways to help. "I learned how to make jewelry," she said, noting how each quarter she would send the proceeds of between $500-$1000 to support immediate needs for clients.
"I loved that we served people in that way and now years down the road, I get to help run that exact program," she said of her current role as Divisional Secretary for Clark County and Nevada State Liaison.
To help raise awareness of human trafficking in Las Vegas, Barnes said she started recruiting people to be "Hope Ambassadors."
"We speak to people directly who are currently living on the street and ask what they need. Do you need housing? Do you need medical care? Are you a veteran? Have you been exploited?" said Barnes.
While conversing, she added ambassadors give out bags with water, sunscreen, hand sanitizer, tissues, a snack item and information on Salvation Army programs, like SEEDS of Hope, and where to go to get help.
"People want to be a part of the solution," Barnes said. "We can actually be hope ambassadors all the time by keeping our eyes open for the signs of people who need help."
For those looking to learn more about human trafficking, Barnes said a great first step is checking out the SAJustice website or Facebook page. There, resources like the 85-minute-long "human trafficking 101" webinar are available for free, said Territorial Director of Social Justice Ministries Jacqui Larsson.
"It's a priority of the social justice department to raise awareness and educate others regarding human trafficking," said Larsson. "The Salvation Army is so involved in this work and people may not be aware of that."
---
Do Good: