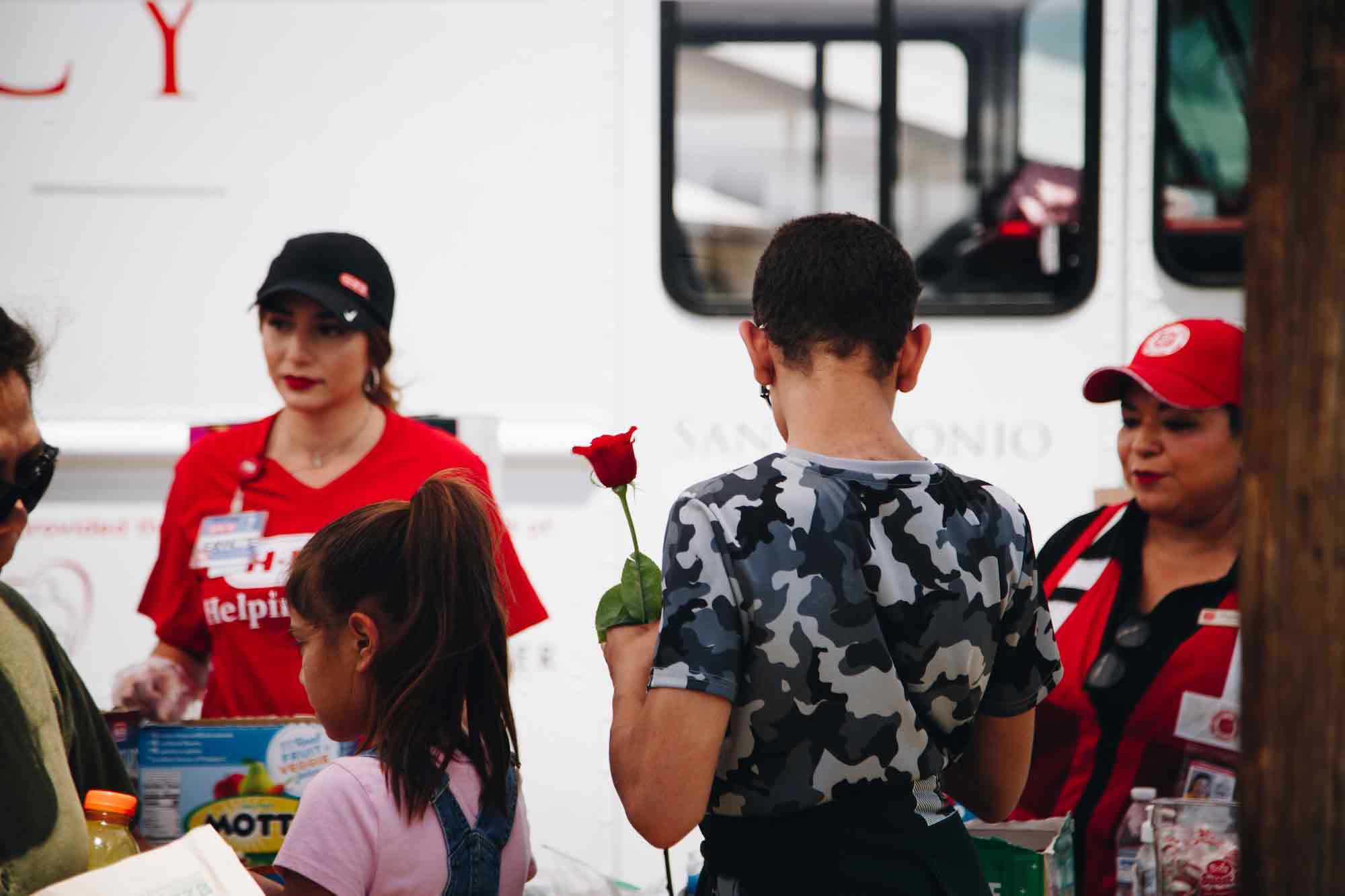 The Salvation Army responds to tragic elementary school shooting in Texas
Following the fatal mass shooting at Robb Elementary School, The Salvation Army of San Antonio has been providing much-needed support in the city of Uvalde, Texas. The attack, which occurred on May 24, saw 21 fatalities and at least 17 more people injured. Among those killed are 19 elementary school students aged 9 and 10-years-old.
In the wake of this tragedy, The Salvation Army stepped up to deliver service to the needs of this community. Major Carolynn Webb, Incident Commander for the Salvation Army response, mobilized the San Antonio canteen that was positioned at the school's Incident Command Post. Once set up, the crew served sandwiches, snacks, coffee and cold drinks to the first responders. On May 25, the response team remained on-hand to provide an additional three meals – breakfast, lunch and dinner – to the many who continued to carry out the first response.
To provide a holistic response which considers the physical, emotional and spiritual needs of the affected, The Salvation Army partnered with the local family resource center, based at the Main Street Civic Center. Three emotional and spiritual care specialists, who are Salvation Army officers (ministers) based in local settings, will provide direct personal support to families.
Another Salvation Army-partnered response is a newly fostered collaboration with the non-profit, Canines for Christ. Canines for Christ work with responders to provide Enhanced Supportive Care (ESC) through specialist workers and therapy dogs, offering an alternative or supplementary form of relief in times of trauma, shock and grief. Due to this partnership, an additional six Salvation Army teams will be dispatched to provide emotional support to those affected, with three teams stationed at the family resource center and three teams onsite at the school.
Major Carolynn Webb and her team continue to have a presence in Uvalde, coordinating with local and state emergency management to provide the best possible support. Their amazing response is indicative of The Salvation Army's ability to show up for those in need, even in the deep moments of tragedy. Just earlier this month, Salvationists and volunteers of the Empire State Division were on the frontlines of emergency response to the mass shooting in Buffalo, New York, providing hundreds of hot meals, as well as emotional and spiritual support, to those impacted.
"Everyone has been very supportive in this community. We are all working together to help; providing food, comfort and a listening ear," said Webb. "Please keep this community in your thoughts and prayers as they travel the long road to healing."
Report by IHQ Communications
---
Do Good:
You've probably seen the red kettles and thrift stores, and while we're rightfully well known for both…The Salvation Army is so much more than red kettles and thrift stores. So who are we? What do we do? Where? Right this way for Salvation Army 101.
Could you use a meeting with God not to get more from him, but to discover more about who he is and his heart for you? Get inside the Caring Magazine Scripture Study Collection and find a suite of free, printable Bible studies to help you start your day with hope, meet God over lunch or end your evening connected to your Creator.
Learn more about The Salvation Army's Emergency/Disaster Services responses.