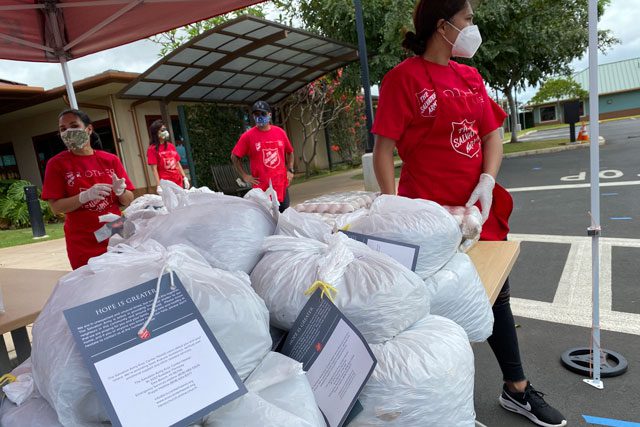 Salvation Army responds to coronavirus in remote islands 
Island communities such as Tonga and Samoa may have escaped the worst of the COVID-19 pandemic, their remote location and early introduction of travel restrictions meaning no cases recorded, according to the World Health Organization as of May 26. But in many geographically remote locations, The Salvation Army is still providing enhanced services because of the economic side effects of the coronavirus lockdown. 
Meeting human needs in these contexts can be a significant challenge, as The Salvation Army's Deputy Coordinator of International Emergency Services, Damaris Frick explains: "We are often among the early arrivers at the scene of a disaster because we are there already, embedded in communities, working with and respected by village leaders and other local groups. And we are also ready to help because of our strategic focus on disaster preparedness and risk reduction."
Frick said preparedness training and activities pay off when disasters happen. 
"Responding to emergencies in island communities can be logistically difficult," she said. "Supply chain disruption and transportation are the biggest challenges to overcome, alongside the limited storage facilities in several remote locations. Often, The Salvation Army has quite a small presence in these places, which could be outstripped by demand were it not for careful planning and investing in good relationships with communities and other agencies ahead of any incident." 
That building of meaningful relationships is crucial. It's why The Salvation Army in Apia, Samoa, was gifted 100 boxes of bottled water, children's books, hand sanitizer and educational material to distribute to families in need. Teams have been able to dispense these items along with food parcels and vouchers.
Many Samoan families are struggling to make ends meet due to continued unemployment, with many businesses unable to operate. For some, the already hard day-to-day struggle to earn a living has become almost impossible.
The Salvation Army has also been caring for its own family. In recent weeks, the local team has been kept busy providing hard copies of Bible studies, sermons, children's activities, newsletters and visiting the congregation pastorally each week, as there is limited access to the internet. 
"Some of our members have said it's been years since a pastor has visited them with supplies and they have been so delighted to see us. It's blessed us as much as it's blessed them, said the regional leaders Lt. Colonels Rod and Jenny Carey. 
In nearby American Samoa, The Salvation Army was able to assist a father and daughter stranded on the island when the only airport closed. Through a strategic partnership with Airbnb, accommodation was sourced and The Salvation Army has been able to provide ongoing support by providing food parcels and meals during their extended stay.
To the south-west, the Pacific Ocean nation of Tonga has also not recorded a single case of COVID-19. This is a relief for the healthcare system, which would be ill-equipped to manage an outbreak and the resultant strain on their resources.
The border closure in March left The Salvation Army's regional leaders, Captains Kenneth and Catherine Walker—who were in New Zealand for their daughter's wedding—unable to fly back into the country. Remotely, they maintained communication with the corps officers, who were distributing food parcels along with packs of soap and hand towels to promote handwashing and general good hygiene practices.
"A number of Tongan families live hand-to-mouth on a weekly basis," Kenneth Walker said. "Those families who received food parcels were over the moon, simply because they weren't allowed to go out…having someone turn up with some food was gratefully received."
The Salvation Army's Alcohol and Drug Awareness Centre in Nuku'alofa reopened immediately when permitted. However, the country still has restrictions around the size of gatherings and which locations may open. 
"The Tongan culture is very much a sociable, community-based culture, and so not being allowed to gather or to congregate or to be with family, that's quite difficult in itself," he said. However, church services have recently been permitted to resume, with social distancing.  
The remote Commonwealth of the Northern Mariana Islands has recorded 22 confirmed cases of COVID-19 to date, with two deaths. In the capital, Saipan, The Salvation Army has overcome supply chain challenges and is providing emergency meals and food boxes to the most vulnerable people in the archipelago. As of May 20, nearly 3,400 prepared meals have been served, along with around 50 food boxes with supplies in each for at least four meals.
In the neighboring Republic of the Marshall Islands, the closure of the international airport has restricted all but essential movement. The Salvation Army, as part of its disaster preparedness operation, is liaising with local, state and federal government partners on how best to meet needs in the widely-dispersed community, with a particular focus on prioritizing continuity of existing emergency feeding programs. Emergency/disaster preparedness training has also recently been undertaken in both Chuuk and Pohnpei in the Federated States of Micronesia, ensuring that The Salvation Army here, too, is ready to respond as required by local authorities. 
The Salvation Army in Guam is focused on providing essential food to vulnerable individuals whose situations have become even more untenable in the wake of COVID-19. The island territory has seen 161 cases of the disease so far, as of May 26, with five deaths believed to be connected to the illness. On its peak day, The Salvation Army served the equivalent of 97 individuals in need, providing vital supplies of food—fruit, vegetables, juice—and non-food items such as diapers. Hygiene supplies, such as body wash, toothbrushes and toothpaste are also being distributed to vulnerable families. Emotional and spiritual care is offered where appropriate. Prior to the pandemic, The Salvation Army was helping to feed an average of 40 Guamanian families each month—about 150 people. By early April, staff were creating food parcels for the same number of people every four days.
Here, Salvation Army personnel are also supporting frontline nurses and assistants who are treating sick patients in a healthcare system that has limited capacity. Underscoring the importance of strategic partnerships, The Salvation Army was delighted to receive a generous donation of 200 sacks of rice, 100 cases of tinned meat, 20 cases of banana chips and 150 cases of coffee and drinks from island partner Quality Distributors.
"We value our partnership with Quality," said local leader Major Tom Stambaugh. "We asked them for this donation because of the pandemic and they stepped up, and we appreciate that."
Island communities often have very specific needs because of their isolation. That's why The Salvation Army in Hawaii, USA, has—as well as meeting human needs—partnered with the Greater Good organization to ensure a shipment of 26 pallets of animal feed. The organizations are working with the Hawaii Veterinary Medical Association (HVMA) to ensure that the food gets delivered to those in most need. 
"The Salvation Army was instrumental in coordinating the food delivery from California," said Aleisha Swartz, President of the HVMA. "It has been delivered to animal shelters and human food service distribution partners on Kauai, Oahu, Māui and Hawaii islands. We will continue to seek support for pet owners in financial distress so that they can continue to care for their family members during this challenging time. We know the importance of the human-animal bond is perhaps more important than ever during this time of social distancing."
From International Headquarters, Damaris Frick put the response in perspective.
"While some of these smaller-scale responses may be eclipsed by the terrifying statistics in larger countries, it's important to remember the individual as well as the millions," she said. "Every single person affected by this pandemic is known and loved by God. The Salvation Army will continue to meet needs in the most appropriate ways possible in every community in which it serves. We are grateful to our highly-skilled and compassionate personnel, our volunteers, donors, corporate partners and prayer supporters who make our responses possible, whether in London, Lima, Luanda or local villages around the world."
Find updates of The Salvation Army's worldwide COVID-19 response at sar.my/covid19.
HOW TO HELP:
If you'd like to make a monetary donation, please

click here to make a gift.

Text 'GIVE' to 52000 to make a $10 donation to The Salvation Army. This will automatically add a one-time donation to your next mobile phone bill.

For information about volunteering, please visit

volunteer.usawest.org

.

To learn more about how to support The Salvation Army's relief efforts,

please click here

.