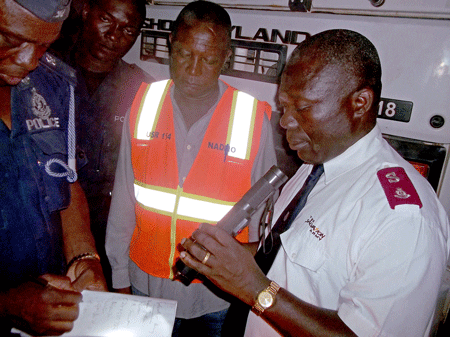 Salvation Army Responds to Building Collapse in Ghana
Upon hearing news of the collapse of a six-storey department store in the suburb of Achimota in Accra, Ghana, a team of Salvation Army staff was despatched from territorial headquarters with a supply of drinks and snacks for emergency services personnel.
Public Relations Secretary Major Justice Incoom was warmly received at the site by the Deputy Inspector General of Police, who was coordinating the rescue effort. The major was told that many of the police, fire ambulance and military personnel had been working at the scene of the accident for several hours without any provision of food or drink.
News emerged that the building had collapsed without warning as some 50 staff at the Melcom store were conducting morning devotions immediately prior to the opening of the shop, meaning that almost all those buried were in one location. At the time of writing, nine people are reported to have lost their lives, with more than 60 people rescued.
Major Incoom says that, upon sight of his uniform, the vehicle in which his team was travelling was waved through the security cordon, enabling supplies to be taken directly to those working to reach people still trapped beneath the rubble.
Report by Colonel Charles Swansbury
Territorial Commander