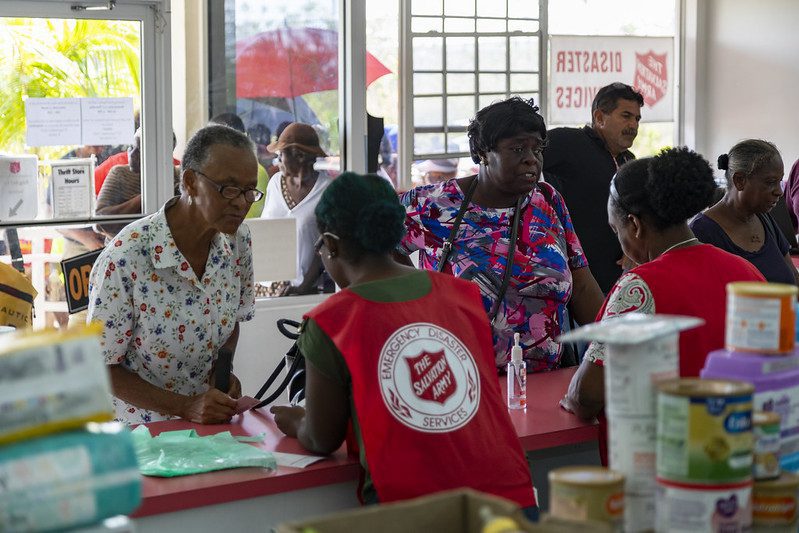 Salvation Army pivots toward short-term recovery in the Bahamas
It's been a full month since Hurricane Dorian slammed into the north Bahamian islands.
The Category 5 storm blasted the Abaco Islands Sept. 1, then slowly churned west toward Grand Bahama, where it lingered for a day, before heading north to the U.S. Winds eclipsed 220 miles an hour, and water levels swelled to more than 20 feet high in some areas. Grand Bahama was devastated, but Great Abaco Island and Little Abaco Island were almost a total loss.
The official death toll has risen to 58, but with more than 600 people still declared missing after the storm, that number is expected to rise significantly. As Prime Minister Hubert Minnis put it, "the grief is unbearable.
A preliminary report estimates Dorian caused some $7 billion in damage, but the government has not yet offered any figures. 
Meanwhile, crews have started to remove some debris on the islands. Some NGOs have packed up and flown back to the U.S. Many stores on Grand Bahama are opening back up. Schools are back in session. 
But there's still much work to be done, to put it mildly.
Some parts of Grand Bahama won't have electricity for a year or longer. The water's been turned back on, but you still can't drink it or brush your teeth with it. Up to 5,000 residents of the Abaco Islands have left to stay with friends and family in Grand Bahama, so the Internally Displaced Persons (IDP) population has sharply risen. 
Several charitable groups, including The Salvation Army, have been working diligently to help the Bahamian people begin to move forward. After nearly four weeks of meeting immediate needs, The Salvation Army is now moving into the short-term recovery phase.
According to John Berglund, EDS Director for The Salvation Army USA Western Territory who was deployed to Grand Bahama Sept. 11, over 60 agencies have come in from outside the Bahamas to do relief work since the storm passed. But because Freeport Corps Officers, Majors Hendrik and Eugenia Sumter, sprung into action so quickly, The Salvation Army was well-positioned to serve from the jump.
"The corps did a phenomenal job responding early. It was easy to just take a look at their distribution process, and keep moving," Berglund said. "[Corporate partners] sent us container after shipping container. The first three weeks was a heavy lift, and The Salvation Army here did a great job with that."

The next step is setting up a disaster case management program. With so many relief groups working to meet needs around the clock, it's important to assess who's providing which services to avoid duplication.
There's been a major focus on helping get the local economy back up and running as soon as possible, instead of having them rely on outside support and time-limited resources, such as temp-help and food boxes. That's why The Salvation Army is distributing gift cards and vouchers to local vendors, so they can resume business and impacted residents can get the help they need all at once. 
The fact is, many Bahamians just need cash. They have expensive home repairs to make and new furniture to buy, neither of which are cheap. Mold remediation awaits them. And in the meantime, they need money for cots and tarps, cleaning products to salvage what household items they can, and basic household items. As Berglund noted, taxes are extremely high on Grand Bahama, so money doesn't go as far with items like groceries, especially if you have another five or six people staying with you. 
"Sometimes, [with in-kind goods] you don't always get the items people actually need. So the best thing we can do is bring in cash, support the local economy and help these folks repair their homes…Even though their roofs are missing, their properties are flooding, they don't really leave their properties. I think part of it is the Caribbean culture. If they do, they're going to stay with family and friends, but they're generally not as inclined to stay in shelters."
The Salvation Army will continue its work on Grand Bahama for as long as necessary. Beyond the aforementioned service areas, they're also working to secure housing for displaced families through Air BnB and coordinating services with the Bahamian government. 
"We have briefings every morning, and we're working well together," Berglund said. "The coordination's gone really well…We've just got to get people cash so they can rebuild their homes."
To support relief efforts, visit helpsalvationarmy.org or call 1-800-SAL-ARMY