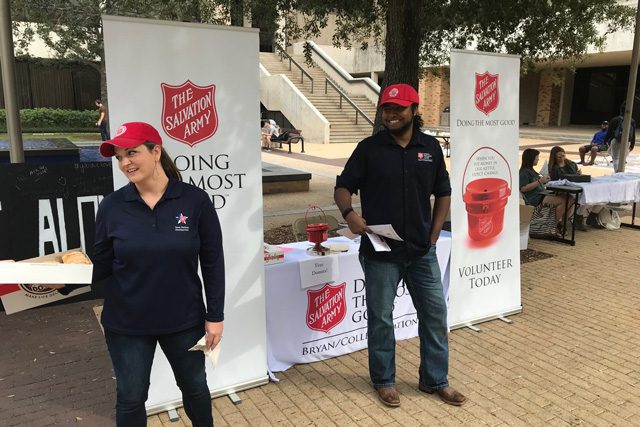 Salvation Army partners with Texas A&M University
The Salvation Army is teaming up with the biggest public university campus in the country.
A new faith-based student organization has assembled on the campus of Texas A&M University to serve alongside The Salvation Army in the three-county metropolitan area of Bryan-College Station.
Named for the Texas A&M mascot, the Aggie Salvation Army (ASA) is the first formally recognized Salvation Army student organization in the state of Texas. The ASA will work to engage students on campus with volunteering and fundraising opportunities for The Salvation Army.
"We are kind of the bridge between The Salvation Army and Texas A&M," ASA President Deron Johnson said in an interview with KBTX. "Aggies are already known for their tremendous generosity, so we basically are providing another opportunity for them to come and help the community."
Last year was a busy one for The Salvation Army of Bryan-College Station, which served over 300,000 pounds of food to more than 17,000 individuals and played a key role in the response to Hurricane Harvey.
Having more help by way of the ASA could prove valuable for The Salvation Army going forward. With more than 68,000 enrollees for the fall 2017 session, Texas A&M is the biggest public university campus in the U.S.
The ASA will be led by Johnson; Mykeala Aranda, Vice President; Tifanie Brannon, Secretary; Stefan Manoharan, Treasurer; and Kaitlin Chambless, Chaplain.
The group will meet twice a month and dues are $25 per semester, with scholarships available.
To learn more about the ASA visit salvationarmybcs.org/aggies or call (979) 361-0618.