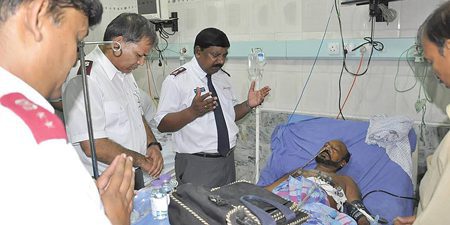 Salvation Army Pakistan responds to Peshawar church blasts
Officers help perform funerals for victims of the bombings.
Two suicide bombers attacked the All Saints Church in Peshawar, Pakistan, Sept. 22, leaving 85 people dead and more than 100 injured. Salvation Army officers in Pakistan assisted in conducting funerals for the deceased.
The attack was allegedly linked to a Taliban group that wishes to rid the country of non-Muslims.
General André Cox asked Salvationists worldwide to pray for the tragedy in Peshawar.
"These have been challenging days for the Christian Church in Pakistan," he said. "We thank God for the faithfulness of the Church and Salvationists across Pakistan…their faith has been tested by tragedy and chaos."
Salvationists across Pakistan joined in protest of attacks against Christians with posters that read "Stop Christian killing in Pakistan" and "We need peace."
Commissioner Alistair Herring, territorial commander for the Pakistan Territory, along with other officers and Salvationists in the country, visited the All Saints Church to pray for the victims and their families. He also joined other church leaders in leading a United Prayer meeting for the affected families at the Saint Cathedral Church in Lahore.
"Please bring the tragic situation in Peshawar before God in prayers," Herring said via Facebook. "Please pray for peace, reconciliation and harmony in Pakistan."