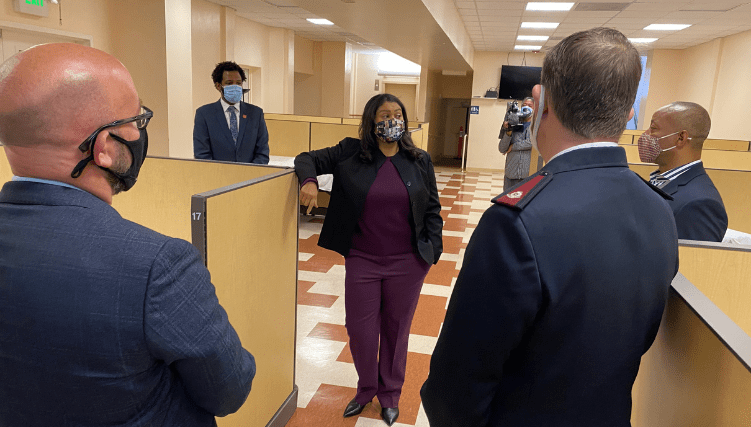 Salvation Army opens collaborative psychiatric respite center in San Francisco
The Salvation Army in San Francisco celebrated the first milestone in its initiative to mitigate homelessness in the City by the Bay. In collaboration with the San Francisco Department of Public Health, PRC/Baker Places and Tipping Point Community, a new psychiatric respite center is now open at the Mission Corps. The location will provide a much-needed place for people experiencing the combination of homelessness, mental health issues, and substance use disorders to rest and get connected to care.
Called Hummingbird Valencia, the program is the first step in The Way Out, an initiative designed to double The Salvation Army's impact on homelessness. Using this site for a behavioral health respite program will continue the mission to serve vulnerable people in the communities.
San Francisco Mayor London Breed, San Francisco Supervisor Rafael Mandelman, Dr. Grant Colfax, head of SFDPH, and representatives from Tipping Point and PRC/Baker Place recently toured the facility.
Breed thanked The Salvation Army for its creativity in working to solve the problem of homelessness in San Francisco.
"Where else are these people going to go?" the Mayor said while touring the facility. "They're still human beings and they need some kind of help in a different kind of way. Otherwise, they still wouldn't be out there.
"I am hoping, and I am sure that this will have a tremendous impact, especially because it's embedded in the community, which people will hopefully become a part of," Breed said. "Hopefully this will help."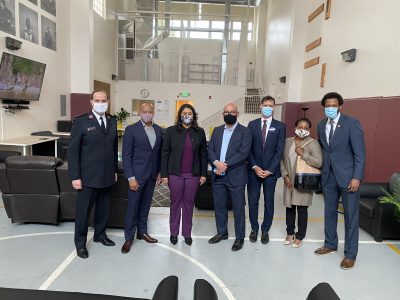 PRC/Baker Places and the Department of Public Health will operate the program. PRC/Baker Places currently operates the existing Hummingbird Place located on the Zuckerberg San Francisco General Hospital campus. General contractors Swinerton led the extensive construction buildout, which included adding showers and a washer and dryer to the building.
"The Salvation Army is thrilled to work with the Department of Public Health, PRC/Baker Places, and Tipping Point to open a Hummingbird site at our Mission neighborhood property," said Major Matthew Madsen, Divisional Secretary for San Francisco. "In addition to the programming designed by the community agencies, we will be offering optional emotional and spiritual support for clients of the program, as well as a direct pathway into our residential drug and alcohol addiction treatment program at our Harbor Light Center in the SOMA neighborhood. Together we can address the crisis of homelessness in our city."
According to the latest Point in Time count in San Francisco from 2019, approximately 8,000 people experience homelessness on any given night. Of these individuals experiencing homelessness, 42 percent self-report alcohol and drug abuse and 39 percent report psychiatric and emotional conditions.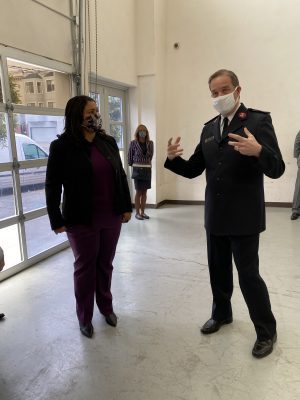 The Way Out will create a clear continuum-of-care for individuals and families suffering from substance abuse by creating a path from the streets to supportive housing that includes many elements, such as expanding its drug and alcohol program in San Francisco and developing permanent affordable housing for formerly homeless individuals and families across a handful of existing Salvation Army properties.
Services at Hummingbird Valencia will include a coordination of services and discharge planning, connection to shelter and housing, food, clothing, access to showers and laundry facilities, and individual and group counseling to engage in motivational interviewing. A Salvation Army officer will be on site and available for emotional and spiritual support.
---
Do Good:
Hear more about

The Salvation Army's efforts to address homelessness in San Francisco

with Theo Ellington, Salvation Army

Director of Homeless Initiatives and Community Development in San Francisco.

It's because of people like you that The Salvation Army can serve more than 31 million Americans in need each year. (

That's almost one person every second, every day.)

Your gift helps The Salvation Army fight for good all year in your community. It's an effort to build well-being for all of us, so together we rise. And that good starts with you.

Give to spread hope

with a donation of funds, goods or time today.