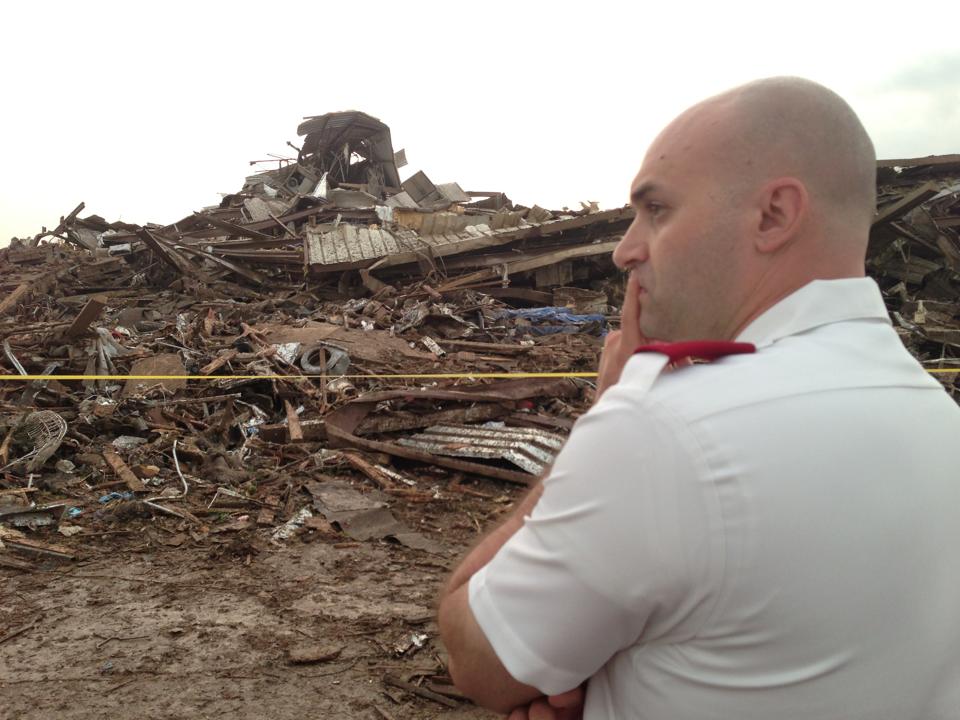 Salvation Army on the ground in Oklahoma
Estimated at over two miles wide, a devastating tornado with winds up to 200 mph struck just south of Oklahoma City on May 20 ripping apart homes and other buildings in populated areas. Officials said 24 people were killed and more than 200 injured as a result of the EF-4 tornado, which flattened entire neighborhoods and set buildings on fire.
Coordinating with local and state emergency management, The Salvation Army was on the ground in Moore, Okla., with multiple canteens and personnel serving survivors and first responders with food, beverages and spiritual support. In Pottawatomie, Lincoln and Cleveland County, Okla., the Army provided breakfast, lunch and dinner to those who had been impacted by the storm.
"The devastation is far reaching in both human life, property and livestock loss. The Salvation Army is honored to serve and provide sustenance to first responders involved in search and rescue, coordination efforts and more," said Major Steve Morris, Arkansas-Oklahoma divisional commander. "And, of course, all survivors will be provided spiritual and emotional care to help them through this tragic time."
Canteens were deployed from Central Oklahoma Area Command, Ardmore, Enid, Lawton, McAlester and Muskogee. Disaster response teams from Pine Bluff, Jonesboro and Hot Springs, Arkansas also assisted Oklahoma City metropolitan area in response to the storm.
Lieutenant Sharon Autry, corps officer in Oklahoma City, Okla., with her husband John, was at home in the Moore area May 20 when the tornado touched down.
"We actually got in our minivan with our children and outran it," she said. "We saw it headed for us as we left the driveway. Indescribable!"
The house remains standing, but the family is unable to return to it yet.
A friend picked up Autry and the kids, who left without even shoes, at a Target so John Autry could head back to the devastation and assist with the Army's Emergency Disaster Services.
"I kept our children home from daycare this morning out of worry, and I still have yet to hear if their daycare teacher has survived," Autry said of the home daycare teacher who lives not far from the storm's path.
Personnel from across the division traveled to the area to form a Divisional Incident Command Team, which will help coordinate the overall response for The Salvation Army.
"Many of these impacted communities will take months or even years to recover," Morris said. "The Salvation Army is committed to being there with them throughout and providing aid wherever it's needed."
[button color="black" size="normal" alignment="none" rel="follow" openin="newwindow" url="salvationarmyusa.org"]Donate to the Army's relief efforts at salvationarmyusa.org, via 1-800-SAL-ARMY, or by texting the word "STORM" to 80888 to make a $10 donation.[/button]