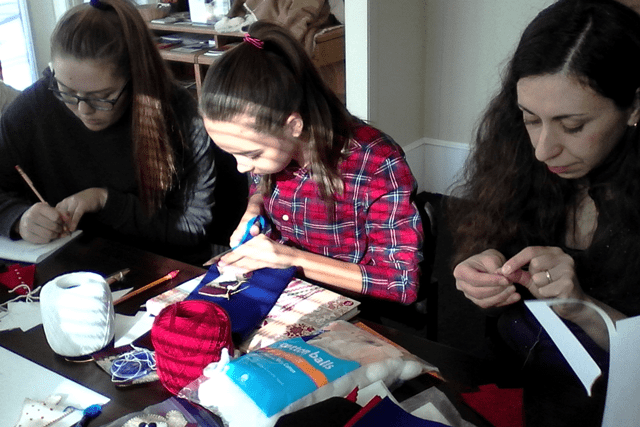 Salvation Army officer reaches Eastern Europeans
Born and raised in then-Czechoslovakia, Major Premek Kramerius is putting his background to good use—in Denver, Colorado.
By Caramie Petrowsky –
When Major Premek Kramerius meets Eastern European immigrants living in Denver, he's immediately drawn to them. That's because he understands firsthand the world from which they came, and how out of place they might feel.
"You feel lonely," said Kramerius, who was born and raised in Czechoslovakia (now the Czech Republic) and moved to the U.S. 15 years ago. "You have an accent and you feel different, and people feel different about you as soon as you open your mouth and start speaking. It's always helpful to have someone there who understands your culture and can help with language and walk next to you at a time you feel alone."
Sometimes, Kramerius—who currently serves as Intermountain Divisional Secretary—encounters individuals of Eastern European descent (there's a sizable Polish contingent in Denver, according to Kramerius) on the streets as part of the Search and Rescue Program. He tells them about the Crossroads Center, an emergency shelter for men, and some of The Salvation Army's other services available. Or, he might meet them at the Crossroads Center and help explain the shelter's rules and case management opportunities, or refer them to other organizations who may be of use.
"I can talk to them in their language—most people are able to speak at least some Russian—and I can tell them about the services we provide," he said. "They don't see me as a threat, but as a friend; it does open doors."
This doesn't mean that Kramerius will be able to immediately start telling them about Jesus and expect they'll accept him as their Savior. Far from it, actually.
"I'm patient," he said. "The culture they're coming from, for them to accept Jesus is a big step. Communism brainwashed them and destroyed their hopes. You can't do the evangelism programs where, during one meeting, people are converted. That's not how it works for Eastern European culture. It's a much more long-term approach and the steps you make are much smaller than you can do with Americans."
People of Eastern European descent are guarded, Kramerius said, and for good reason.
"When I grew up under communism, what was said at home, you couldn't say at school or on the street," Kramerius said. "There was a different life that went on behind closed doors versus on the outside. If you spoke out against communism, you risked going to jail. You never knew who to trust."
Kramerius, himself, gave his life to Christ at The Salvation Army in Prague when he was 18 years old.
"I was waiting at the bus stop to go to my college and there was a flier there about a Salvation Army meeting, the first one in 40 years," he said. "This was in 1989."
Intrigued, Kramerius showed up and received an invitation to a Bible study.
"I went, and that's where I became a Christian," he remembered.
In 1994, Kramerius moved to London, England, to attend The Salvation Army International Training College for Officers. After his commissioning in 1996, he and his wife, Charity, moved for their first appointment to Brno, the second largest city in the Czech Republic, which had gained its independence just three years prior.
After eight years at the post, the couple was appointed to the Northwest Division, in Aberdeen, Washington. They spent a dozen years in Washington state, before moving to Denver for their next appointment. On Colorado's Front Range, Kramerius discovered an opportunity he didn't have back in Washington—people he can minister to using his native language.
Along with helping the homeless he encounters, Kramerius visits Eastern European shops and restaurants and talks to the owners about The Salvation Army. While doing this, Kramerius has met Russian senior citizens who have taken part in the Army's senior camps at High Peak Camp.
Kramerius also helped establish the Service Extension Center in Loveland, where there's a large Russian community.
Olga Duvall, a Russian immigrant herself who's worked for The Salvation Army for more than two decades, runs the Service Extension Center. She knows a lot of the Russian-speaking families and, when the facility opened in the spring of 2016, saw the lack of community firsthand.
"There aren't a lot of connections, no place where they can go and talk to someone and receive info they can understand and relate to, and where they can learn about God and learn about the Bible," Duvall said.
But now that is changing. Each month, about a dozen people come together for a fellowship meeting. The meetings, which began, in earnest, in July 2017, are invaluable for the immigrants, who often struggle to learn the new culture. It's not just the language that proves a barrier. Things like "the banking system and the post office are completely different," Kramerius said. The group even gathered together to ring in the Russian New Year, celebrated Jan. 14.
"They came together, brought Russian food and had a time of community celebration together," Kramerius said. "The wonderful thing is there are also American people who are learning Russian who attend, including university students. They can observe the culture and communicate in Russian."
According to Duvall and Kramerius, the long-term goal for the center is to open a full-service Salvation Army corps, offering church services, Bible studies and youth programs.
"It would be the first Russian corps in the Western Territory," Kramerius said.  
Giving this population a place where they can feel at home is important, and it goes a long way toward establishing relationships and building trust, which are the ultimate goals. Because, as Kramerius puts it, until you win their trust, you're likely not going to be able to talk about Jesus with them in any meaningful way.
"These are people we can help with their struggles and change their lives," he said. "We shouldn't ignore our neighbors just because they have a different accent. By helping them with their struggles, that's how we can show them we care. And when you show them there's someone who cares, that will open the door for you to speak about Jesus to them later."
---
This is the second in a series of articles by New Frontier Chronicle showcasing different expressions of ministry across The Salvation Army USA Western Territory that point up the importance of claiming the freedom in Christ that is offered to us and of reaching out to other ethnic and linguistic groups so as to build a more vibrant and inclusive Church.