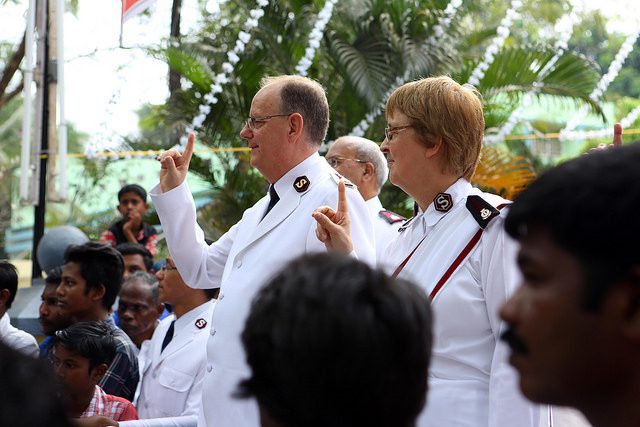 Salvation Army international leaders visit India South Western Territory
[gss
gallery ids="17532,17526,17527,17534,17531,17539,17530,17537,17540,17542,17536,17535,17529,17538,17528,17533″]
By Joseph Roy, Major –
Thousands gather to see General André Cox and Commissioner Silvia Cox.
The Salvation Army's international leaders, General André Cox and Commissioner Silvia Cox, recently completed a five-day visit to the India South Western Territory, during which the General urged Salvationists to "practice what we preach."
At a united holiness meeting, crowds of more than 7,000 people gathered at a temporary pandal (meeting hall) outside The Salvation Army's secondary school in Kowdiar, Kerala, as the General presented the Bible message. With the venue overflowing, the international leader offered his own seat on the platform to an 80-year-old woman who had made a three-hour journey from Cherukole to join in prayer and worship. Cox encouraged all Salvation Army officers present to give up their seats, exemplifying the servant leadership evidenced by Jesus in the gospels.
The congregation–formed of Salvationists, friends and special guests from throughout Kerala–responded to the General's actions with applause and tears of appreciation. The words of Dr. John Syamkutty O.F. ("a great message of sacrifice"), Salvation Army Founder William Booth ("Others") and Jesus ("your leader should be like a servant," Luke 22:26 CEV) were redolent, and the exhortation of the apostle Paul to "be imitators of God" (Eph. 5:1 NKJV) took on fresh meaning.
Territorial Commander Commissioner Samuel Charan led the meeting, with invited dignitaries including Palode Ravi, deputy speaker of the legislative assembly of Kerala; K. Muraleedharan, legislative assembly member; The Most Reverend Dr. M. Soosa Pakiam, Archbishop of Latin Archdiocese of Trivandrum; Rt. Rev. Dr. Gabriel Mar Gregorios from Malankara Orthodox Church; Rt. Rev. A. Dharmaraj Rasalam, the bishop of South Kerala; Rt. Rev. Dr. Thomas Mar Timotheos Episcopa, president of the Mar Thoma Evangelistic Association; and Rev. Mathew Skariah, the auxiliary secretary from the Bible Society of India.
At a women's rally, Commissioner Cox (World President of Women's Ministries) challenged the congregation to "go into the community and witness among them for Jesus Christ." The General, meanwhile, urged young Salvationists to meet human needs without discrimination through "consistent prayer and hope." To this end, his private secretary, Captain David Williamson, shared his own testimony of God's work in his life and encouraged young people to come forward and commit to a life of serving Jesus.
A march of witness–with thousands of participants of all ages–proceeded for miles throughout the city of Thiruvananthapuram. The General took the salute, amid the strains of indigenous musical instruments, enthusiastic shouts of "hallelujah" and a colorful array of banners, flags, traditional dress and cultural items.
Each of the territory's 333 corps had taken part in a 365 Days–Territory on Its Knees prayer initiative in the year preceding the General's visit. All involved felt that God had showered his blessing upon India South Western during this time of renewal, rejuvenation and recommitment.
From a report by Major Roy Joseph, divisional commander, Adoor Division