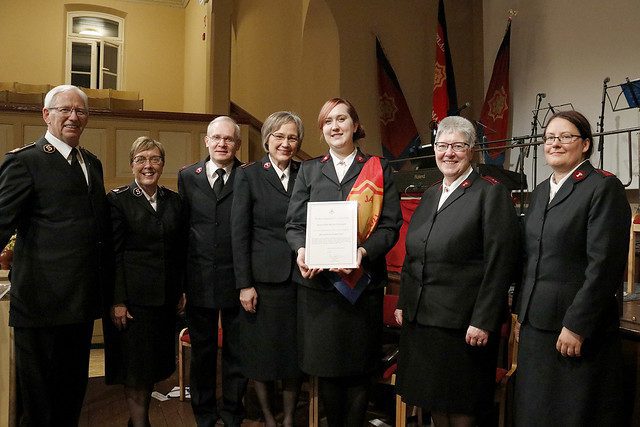 Salvation Army international leaders visit Finland
General Brian Peddle and Commissioner Rosalie Peddle celebrate 130 years of Salvation Army ministry in Finland.
General Brian Peddle and World President of Women's Ministries Commissioner Rosalie Peddle were guest leaders as The Salvation Army celebrated its 130th anniversary in Finland.
The main celebration took place at Rock Church in Helsinki—a world-renowned place of worship built into the rock—on Friday evening Sept. 20, with a united band and other Salvation Army musicians. Special guest Finnish actress Seela Sella performed dramatic readings of some psalms. As a child, she attended The Salvation Army in Tampere.
The congregation included the Canadian Ambassador and guests from other churches and organizations.
The General presented Hedvig von Haartman Awards to the advertising agency and production companies that helped create fundraising campaigns in recent years. The awards—named after a pioneer of The Salvation Army in Finland—go to people or groups that have shown long-time support and a pioneering spirit in their activities for The Salvation Army.
The next day, approximately 450 children and their parents gathered in HopLop Adventure Park to celebrate the anniversary. Connected to this "Family Fun Day Birthday Party," the Peddles attended a youth forum where they met young people from Finland and Estonia, and discussed topics such as the gap between generations, international relationships between young people and the status of girls around the world. The General highlighted the importance of The Salvation Army being for all generations. 
In the afternoon, Commissioner Peddle and Colonel Anne-Dore Naud, Finland and Estonia Territorial President of Women's Ministries, led a women's rally themed "On the Way—Valuable and Brave Women Needed." The Commissioner's message encouraged women to find their value as God's beautiful creation and to be visible in their lives at home and in the community.
Meanwhile, the General and Territorial Commander Colonel Patrick Naud visited Central House in Helsinki, where The Salvation Army runs social services including housing units and a goodwill center.
The day ended with the commissioning and ordination of Lt. Jessica Bryant-Rönnqvist by the General. The Canadian-born Lieutenant is unique in being commissioned in Finland by a Canadian General in the presence of a Canadian training principal! The territorial commander appointed her to Oulu Corps, where she has already served for a couple of months with her husband. 
The General gave the message at the Sunday morning holiness meeting.
"We have been called to be holy," he said. "It is not an option but a command and necessity. We bring God to the world wherever we go and the world needs us."
Many individuals responded to the message and to God's call.
National and local media showed interest in the 130th anniversary weekend, with the visit of the Army's international leaders being featured on several TV channels and in various magazines.
Report by Lt. Colonel Eija Kornilow