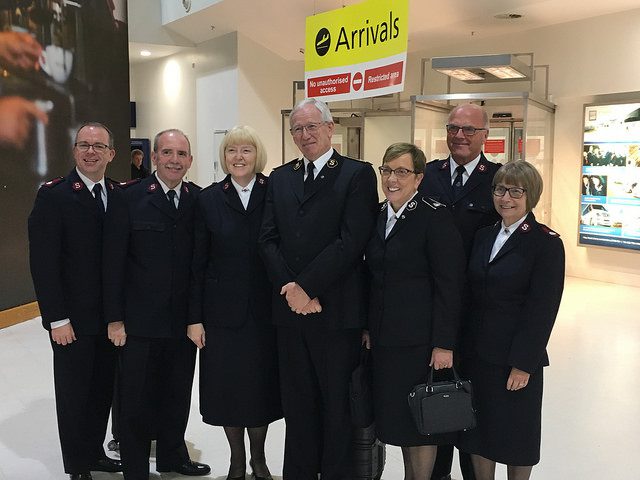 Salvation Army international leaders visit Belfast
By Philip Pentland –
General Brian Peddle and Commissioner Rosalie Peddle, World President of Women's Ministries, shared freely of themselves and their passion for The Salvation Army and God when they led meetings recently at Belfast Sydenham Corps in Northern Ireland.
Formal events began at Belfast City Hall with a civic reception hosted by the Lord Mayor of Belfast, Councillor Deirdre Hargey. The Peddles were graciously received by the Lord Mayor who conveyed much admiration for the work of The Salvation Army in the city of Belfast. In his response, the General thanked the Lord Mayor and gave some insights into the Army's global mission.
The first public meeting of the weekend featured Belfast Sydenham Band, Songsters and soloists. The international leaders showed a clear passion about the movement they lead and their appreciation for the role of Salvationists serving and living out their faith in communities. Items from Sydenham Band included "Since Jesus" and the evergreen cornet trio, "The Trumpeters." Jenna Briggs sang "His Promise" and Sydenham Songsters' impactful contributions included "Praise His Holy Name" and "Still, my Soul, be Still."
The following day began with a live interview with the General on the BBC Radio Ulster program Sunday Sequence, where a wide range of topics was covered, including the cross-community nature of The Salvation Army's work in Northern Ireland.
The morning meeting will long be remembered by the congregation in the hall and hundreds more who joined in via live stream on Facebook. Contributions from the Sydenham young people (Sydz Kidz Band and Choir) were particularly appreciated. The General's Bible message was based around the prayer of Jabez, as recorded in 1 Chronicles. The response was evident at the mercy seat and throughout the hall as people acknowledged the certainty that God "is able, more than able."
The final gathering of the weekend was built around "In Conversation" interviews with the international leaders conducted by Paul Clark MBE, one of Northern Ireland's most prominent broadcasters. These relaxed conversations allowed the Peddles to connect with their listeners as they freely discussed their upbringing, family and their vision for the Army's mission across the world.  
A cornet solo by Bandmaster David Corry and vocal solo by Jackie Brown enhanced the overall worship experience. Rosalie Peddle laid down the challenge to rely fully on the presence of the Lord to go with his people in all that they are called to do.