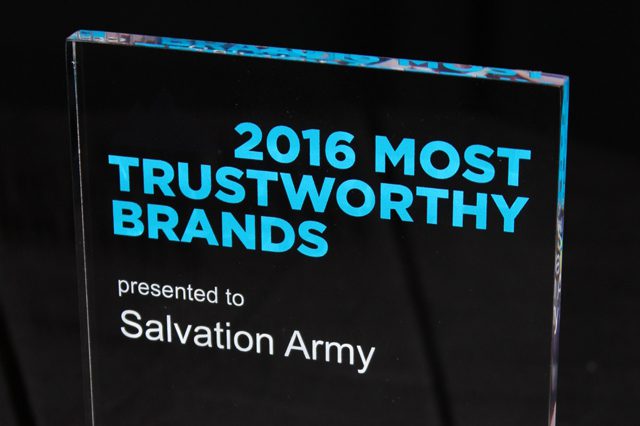 Salvation Army in Orange County rated as top-tier trustworthy brand
By Kevin White –
The Salvation Army in Orange County was once again recognized as one of the most trustworthy nonprofit brands at the 2016 Annual Most Trustworthy Brand Event presented by the The Values Institute.
In its sixth year, the Most Trustworthy Brand Event celebrates and recognizes corporate values and trust in companies and organizations that have a significant footprint in Orange County. Partnering with the College of Communications' Center for Brand Values at California State University Fullerton, the Values Institute fielded an online survey in April to determine the top brands in the county.
That was followed by a more detailed survey in May to establish which companies and organizations reflected the core values that distinguish them as a top trustworthy brand—competence, consistency, concern, candor, and connection.
The recognition comes two years after The Salvation Army earned the Most Trustworthy Non-Profit Brand in Orange County award.
"We are honored and humbled to be recognized as a brand that reflects values and trust within the community," said Captain Nigel Cross, Orange County County Coordinator. "That's important feedback when it comes to serving others and evaluating the impact of our mission. It's also a significant reminder to continue to be good stewards of that trust."