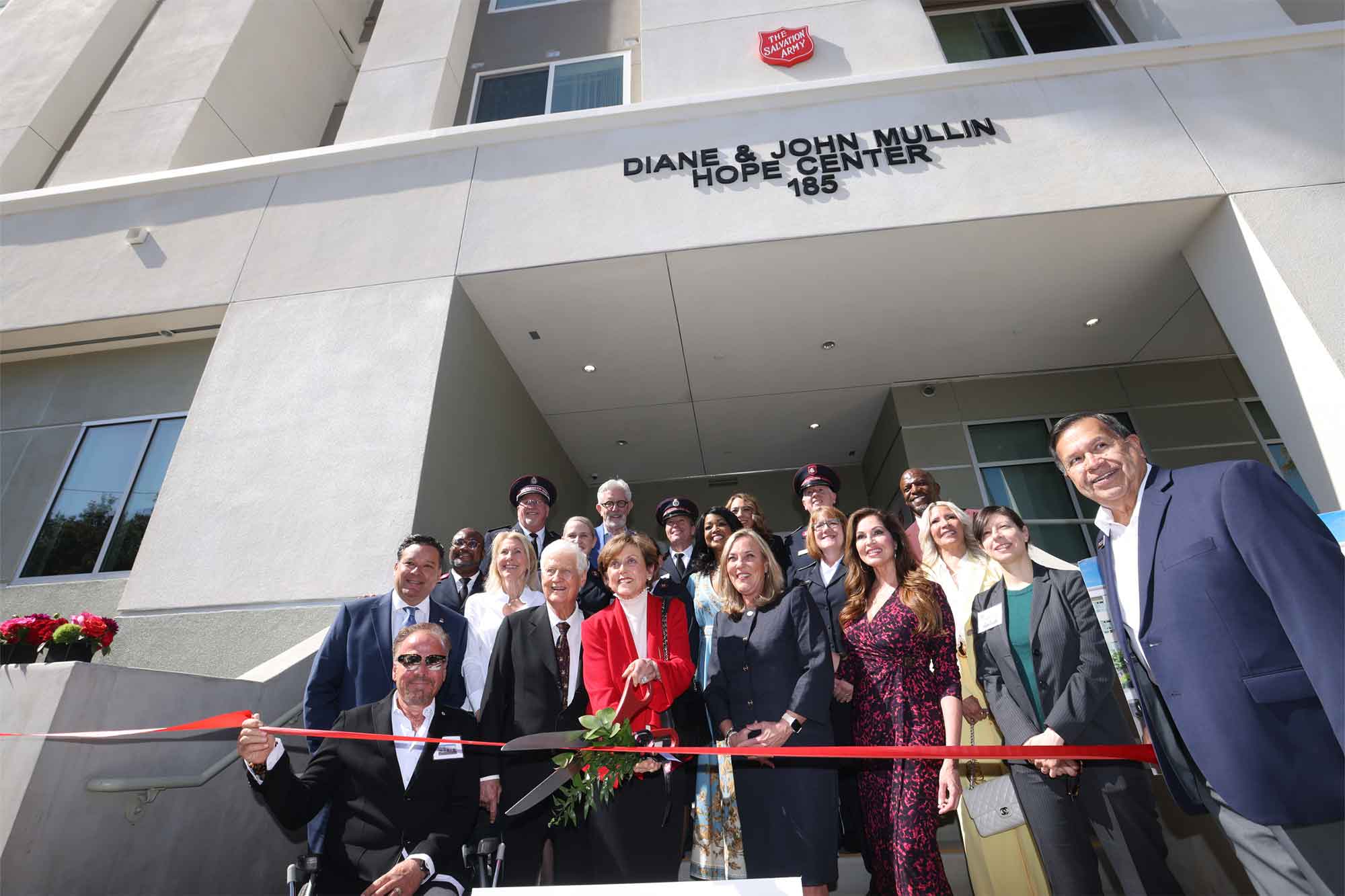 Salvation Army Hope Center opens in Pasadena with 65 apartments
For more than a year, Suzanne lived in her car—the result of extensive medical bills from breast cancer and then a stroke that left her without a place to call home—but now she is one of the newest residents of The Salvation Army Diane and John Mullin Hope Center in Pasadena, California.
"This is where I'm supposed to be," Suzanne said.
The four-story facility nextdoor to the Pasadena Tabernacle, led by Corps Officers Majors Paula and Roy Wild, features 65 fully-furnished studio apartments along with a state-of-the-art client choice food pantry and associated supportive services plus a gym, yoga room and library for 65 formerly unhoused area residents.
A grand opening Oct. 12, emceed by journalist Lisa Guerrero with a keynote from actress Rebecca King-Crews, brought representatives from The Salvation Army, City of Pasadena, Los Angeles County Development Authority, FHLB Affordable Housing Program and private donors to cut the ribbon on the Hope Center.
"This is about people," said Southern California Divisional Commander Lt. Colonel Mike Dickinson. "We celebrate this opening as a haven for our neighbors in need. Buildings are simply a symbol of renewed possibilities. Individuals will come here and they will find hope, support and the tools needed to get back on their feet."
More than half of all unsheltered people in the country are in California (51%), according to the U.S. Department of Housing and Urban Development, making The Salvation Army's mission that much more necessary here.
"We continue to provide 5,000 shelter beds every night in Southern California," Dickinson said. "We remain committed to fighting against homelessness, to be a steadfast pillar of hope for those in need."
Hope Center residents are referred by the local housing authority, the homeless continuum of care, and other governmental and NGO entities via the coordinated entry system (49 units) or the United States Department of Veterans Affairs (16 units). It was financed with investor equity under the federal and state low-income housing tax credit with supplemental funding from government and private sources.
Pasadena Mayor Victor Gordo, who was also involved in the building of the adjacent Salvation Army Silvercrest facility for low-income seniors some 30 years ago, presented Major Dr. Terry Masango a certificate of gratitude from the city, noting his leadership of the capital campaign from 2017-2020 as then Pasadena Tabernacle Corps Officer.
"We spent many nights, beyond midnight, meeting and working with neighborhood residents sharing how this project will be an asset," Gordo said. "This is a neighborhood improvement project, supported by the community, that will bring benefit to individuals, families and the entire neighborhood."
Kathryn Barger, 5th District Supervisor for the County of Los Angeles, shared a similar sentiment.
"I cannot tell you how full my heart is," she said. "Homelessness is not one-size-fits-all, and we need more solutions."
She noted the generosity of the Mullins, who gave a sizeable gift to make the Hope Center possible. "People talk about loving thy neighbor but you all walk it," Barger said. "Your generosity serves as an example not only to us in government but also to the private sector. We must work together to address homelessness with hope and dignity."
Of her first walk around the newly constructed center, Diane Mullin said, "Oh, I cried. It's unbelievable.
"John met an older resident and asked him how he likes it here," she said. "The man said, 'Well, the first night was the first night I could close both eyes. Out on the street, you have to always keep one eye open.' He'd been on the streets for eight years."
And Mullin said they're not done.
"We realize that we want to do this again because there's nothing more my husband and I really need," she said. "We have each other, you know, time with good health and people you love. We've been in so many boards of directors in other charities but this is the one."
Western Territorial Commander Commissioner Douglas Riley said the Mullins' name on the building is a sign to all who drive by of the hope they have for others and The Salvation Army.
He recounted the early days of The Salvation Army in Pasadena, back to 1884 when the Army would hold "open air" meetings at the corner of Fair Oaks Ave. and Colorado Blvd. It was considered a public nuisance as the drum beat disturbed the horses, and the corps officer (pastor) was often arrested.
"Our mission is 'to preach the gospel of Jesus Christ and to meet human needs in his name without discrimination,'" Riley said. "If that causes a public nuisance, so be it. It's the creed of the Army to love the unloved and we're here to stay."
---
Do Good
You've probably seen the red kettles and thrift stores, and while we're rightfully well known for both…The Salvation Army is so much more than red kettles and thrift stores. So who are we? What do we do? Where? Right this way for Salvation Army 101.
Get on the list for Good Words from the Good Word and get a boost of inspiration in 1 minute a day with a daily affirmation from Scripture sent straight to your inbox. It's an email to help you start your day with goodness.