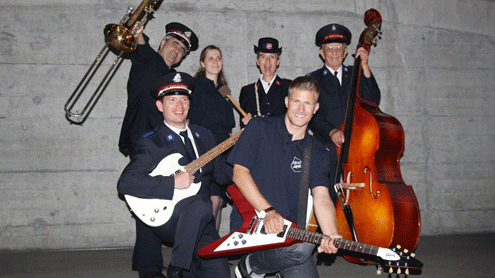 Salvation Army group moves forward at Eurovision Song Contest 2013
HEILSARMEE, the "rock group" put together by The Salvation Army's Switzerland, Austria and Hungary Territory to represent Switzerland at the 2013 Eurovision Song Contest, has won the Swiss public's support after an exciting televised contest. Heilsarmee, with the song "You and Me," received 37.54 per cent of the vote – more than double that of the second-placed act.
The members of six-piece group – Michael Sterckx, Katharina Hauri, Christoph Jakob, Sarah Breiter, Jonas Gygax and 94-year-old self-confessed "old crock" Emil Ramsauer – were delighted to be chosen to represent their country in Malmö in April. (See www.salvationarmy.ch/eurovision/band for more information on the individual members.) The Salvation Army's Head of Marketing and Communications, Martin Künzi, says they are "overwhelmed" to have been picked.


Heilsarmee's celebrations were slightly dampened by the news that the European Broadcasting Union (EBU), which runs the Eurovision Song Contest, has concerns that the group falls foul of its restrictions on "political groups" or the promotion of commercial interests, and that Heilsarmee may have to change its name and wear something other than official Salvation Army uniform.
Martin says he disagrees with the EBU but admits that there is ongoing dialogue to ensure Heilsarmee can take part in a way that represents the original concept of presenting a true face of The Salvation Army. "For us," he says, "it is not a question about uniforms and the name as such but that if we have to change them it will disrupt our concept. We were authentic as The Salvation Army – no wild choreography, a band that can perform the song in the streets. If the uniform is removed the concept will be affected. Therefore we want the EBU to rethink the restrictions and let us create a concept that works."
The group will have to make it through the first semi-final in Malmö, Sweden, on Tuesday 14 May to have the opportunity to participate in the final on Saturday 18 May, in front of an estimated TV audience of 125 million people. Across Europe (but not in Switzerland) people will have the opportunity to vote for Heilsarmee.
Martin is very grateful for the support already received from around the world. "The Salvation Army could rock not only Malmö but the entire world!" he says. "We should not miss the opportunity."
Report by Kevin Sims
Communications Section
International Headquarters