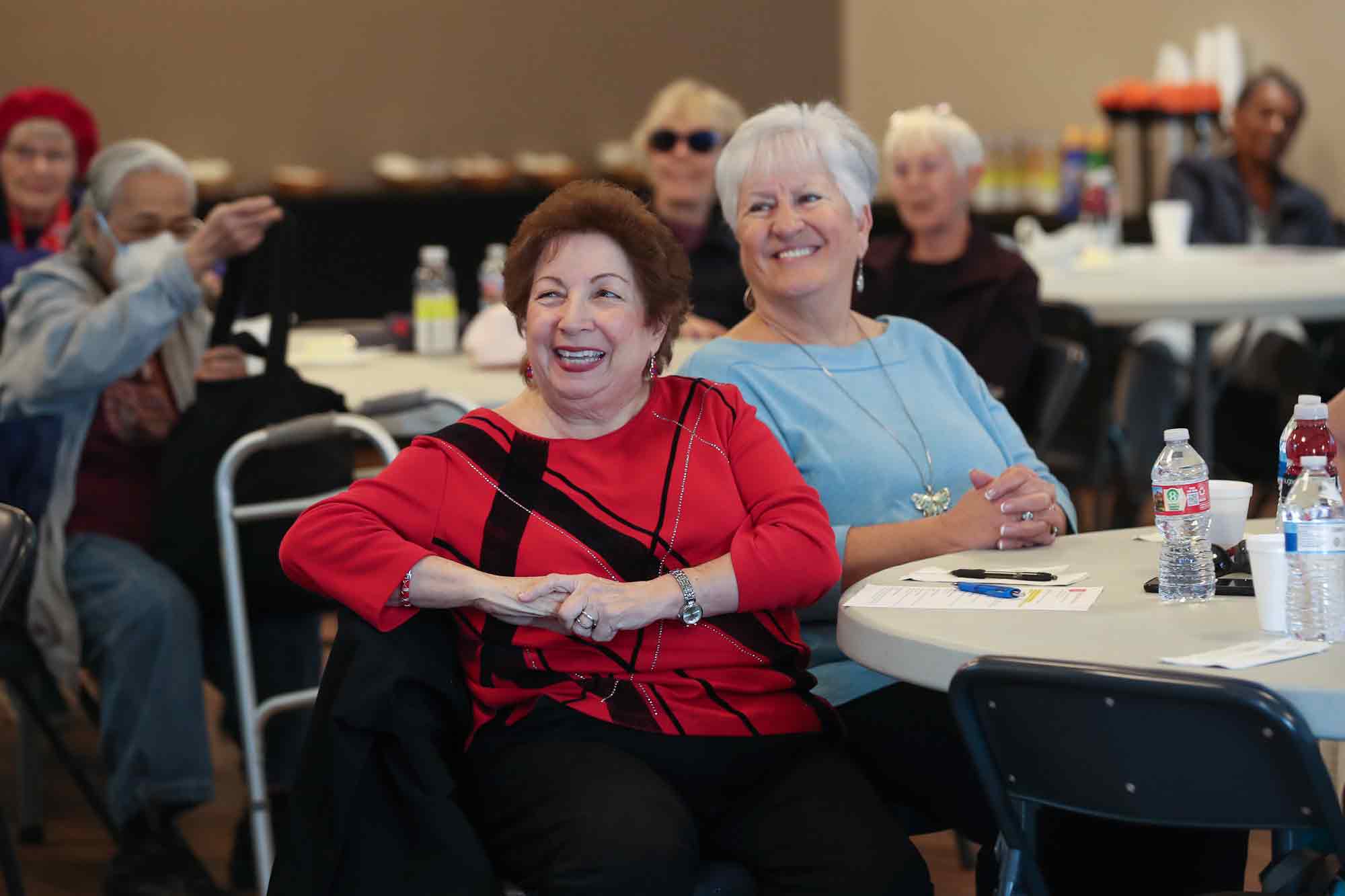 The Salvation Army focuses on the health of seniors at doctor-led seminar
Senior citizens at The Salvation Army Long Beach Red Shield gathered for Doctalk, a luncheon event with doctor-led conversations.
Catered toward senior citizens, "Doctalk" provided an opportunity for doctors to interact with the public, offering information and answering any health-related questions they may have. The luncheon event was held at The Salvation Army Long Beach (California) Red Shield Center March 30.
The seminar focused on arthritis and preventative care, while past conversations educated attendees on dementia. A presentation was given that highlighted "living healthy" by staying active, eating a balanced diet and using tools that can simplify or support mobility.
"They're going over things that people in this age group may actually deal with," said The Salvation Army Long Beach Red Shield Program Administrator Dorothy Rosnick.
Rosnick ensures the Red Shield's programs are a safe and welcoming space for anyone involved. She interacts one-on-one with the seniors and has gotten to know many of them closely, often exchanging hugs and smiles with familiar faces as they enter the center.
"We never really know how many people will come but we usually have large turnouts," said Rosnick.
The senior program at the Red Shield Center focuses on older adults living in Long Beach and works to ensure they are receiving beneficial care, assistance and opportunities that individuals in their age group may otherwise be missing.
"As a part of the senior service program, we look for ways to assist our seniors and their health," said Rosnick. "About 7-8 seniors come in on Tuesday and Thursday mornings from 9-10 to walk laps either around the indoor basketball court or outdoor field, depending on the weather."
Doctalk had over 50 individuals enrolled, and with many showing up, there were few empty seats.
"Just being able to talk to medical professionals and seeing how they want to serve us, it's a good feeling," said senior program member Lynn Escala.
The Anthem bus was on-site to offer free health screenings and provide information regarding health insurance or Medicare plans. Preventive health measures and screenings could prevent 85 percent of illness and disease, according to Anthem.
Optum Patient Relations Liaison Jonas Edrada was on-site to represent Optum and answer any follow-up questions regarding medical care and appointments.
"I wouldn't say it is an easy job," said Edrada. "But it is rewarding getting to know people and feeling like I am making an impact in their medical situations."
Dr. Mark Smith and Dr. Cassandra Heller, specialists in family medicine from Wrigley Village Primary Care, were the medical professionals at the event. The doctors stated they are currently accepting new patients and can make house calls, if needed.
"Whatever your concern may be, you can call the number on my card and I will come to your house if you cannot come to our offices," said Smith to the audience.
Although the seminar focused on arthritis, attendees could ask questions about anything related to their overall well-being and receive instant answers from qualified professionals.
"How much exercise should we be getting a day?" questioned one attendee. "What do you think of organic vs. non-organic?" asked another.
The open structure of the seminar allowed individuals to converse with doctors in a casual way. With many questions and limited time, the doctors and Rosnick have recognized the demand for health-related information and are making plans for another event.
---
Do Good: