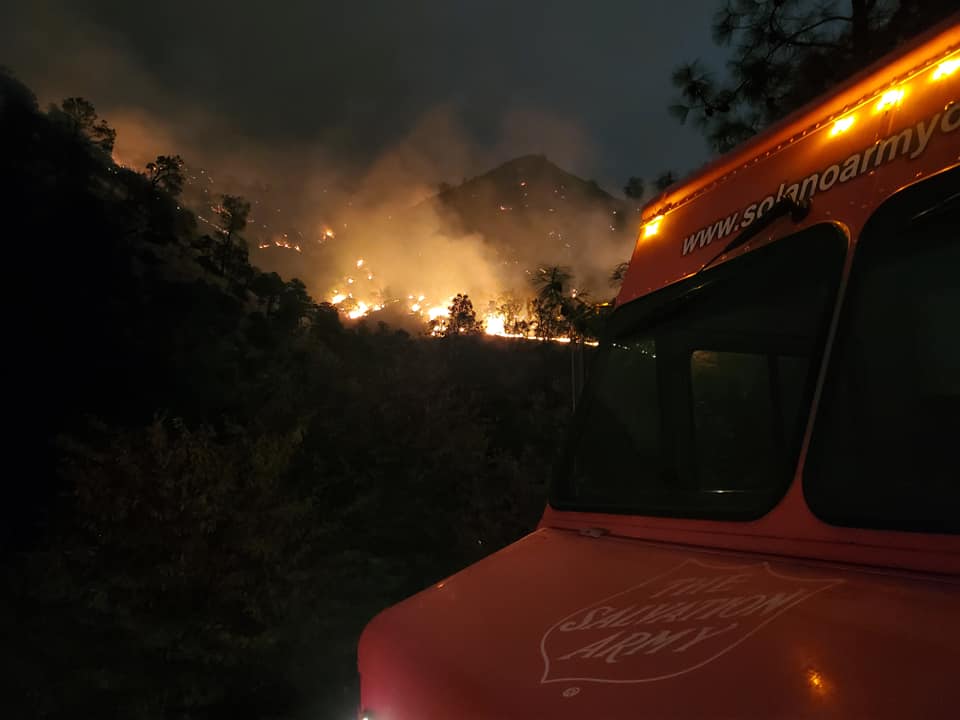 Salvation Army feeds first responders, evacuees of several Northern California wildfires
Nearly 250,000 people are under fire evacuation orders and warnings in Northern California, as three major fires continue to rage around the San Francisco Bay Area. The Salvation Army is providing life-sustaining resources to both first responders and evacuees impacted by the LNU Lightning Complex, SCU Lightning Complex and CZU Lightning Complex fires. 
Since Aug. 17, The Salvation Army Del Oro and Golden State divisions have provided more than 6,225 meals and hydration units to first responders and evacuees.  As the fires grow, it is anticipated the need for feeding will increase. 
The Salvation Army's Napa Valley Culinary Training Academy, a four-week program which helps men and women who've overcome addiction and homelessness gain training to enter the culinary fields, prepared over 1,300 meals August 21 for firefighters, evacuees and families still struggling to make ends meet due to COVID-19.  
"It is thanks to the hard work of the staff, students, and alumni of our Culinary Arts Academy that we were able to gear up from 150 per day to 500+ when COVID-19 forced dozens of Napans into emergency shelters beginning in April," said Napa Corps Officer Lt. Roger McCort. "And when the fires sparked in Napa County, it is these same workers who made it possible for us to move from a few hundred meals a day to thousands."
The Culinary Training Academy is preparing all meals for the response effort in Napa County, the Del Oro Division's largest effort. That means supporting the Army's meal service at eight wildfire sites, including six hotels, the Emergency Operations Center and Crosswalk Church, that is operating as a public evacuation area.
In Vacaville, The Salvation Army continues to serve at The Mission Church, which is operating as a staging area for first responders. They began serving hours after the fire began Aug. 19, and continue to provide breakfast, lunch and dinner to those who are working hard to keep everyone safe from the wildfire. 
In Yuba City, The Salvation Army is serving evacuees at two hotels. Evacuees were originally from the Jones Fire in Nevada County, but now that evacuations have been lifted in that area, evacuees are being brought in from other fires throughout Northern California. 
"We'll be here for as long as they need us and we will continue to serve here," Suisun City Kroc Center Corps Officer Major Randy Hartt said in a video message from the frontlines of the Gamble Fire near Lake Berryessa August 18. "Please pray for these firefighters as they battle it on two fronts here—it's a big fire. Pray for them for their safety and pray for us as we serve these guys." 
In the San Francisco Bay Area, The Salvation Army Golden State Division is on the scene responding to the CZU Lightning Complex, River and Carmel wildfires. The Salinas (California) Corps has become a hub for meal distribution to various evacuation centers and shelters, and the efforts have been aided by the Santa Cruz Corps and the staff of Camp Redwood Glen, who have been cooking meals at the Salinas Corps while the camp has been evacuated due to a nearby fire. As of Aug. 24, the camp has remained safe from the fire. The Salvation Army Turlock Corps is providing meals to the evacuees in the Turlock region and also to first responders. 
COVID-19 has impacted the way The Salvation Army responds to disasters. Now, all meals are sealed and individually wrapped. Traditional canteen cooking has been modified with strategically-located centralized kitchens, to prepare meals in a safe environment. Personal protection equipment (PPE) is provided for all disaster workers, and CDC guidelines apply to all service deliveries.
The Salvation Army will continue to provide services as long as it is needed, including providing meals, snacks and hydration for first responders, survivors at evacuation centers and at both congregate and hotel shelters. Financial assistance will be provided to survivors through the Army's disaster social services and emotional and spiritual care will be provided to all who ask.