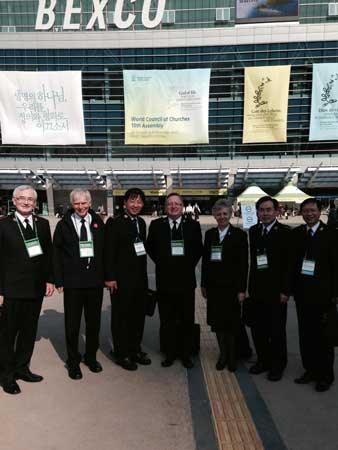 Salvation Army delegates take part in World Council of Churches assembly
Four Salvation Army officers are among thousands of church leaders gathering in Busan, Republic of Korea, for the 10th Assembly of the World Council of Churches (WCC) from 30 October to 8 November 2013.
The Salvation Army delegation – representing the 126 countries in which the international church and charity operates – is headed by Commissioner William Cochrane (International Secretary to the Chief of the Staff, International Headquarters). He explained: 'As a distinctive part of the wider church, it's good for The Salvation Army to engage with fellow Christians, to share in fellowship, prayer and celebration of what unites us.'
Commissioner Vibeke Krommenhoek (Territorial President of Women's Ministries in the Norway, Iceland and The Færoes Territory), Lieut-Colonel Jim Champ (Territorial Secretary for Communications, Canada and Bermuda Territory) and Major John Read (Territorial Ecumenical Officer, United Kingdom Territory with the Republic of Ireland) have also travelled to Busan for the event. They joined Korea Territory officers Commissioner Park, Chong-duk (Territorial Commander), Colonel Kim, Pil-soo (Chief Secretary), Major Son, Suk-young (Divisional Commander, Kyung Nam) and 27 cadets who were present for the opening ceremonies.
With the theme 'God of life, lead us to justice and peace', the first meeting of the assembly honoured the diverse traditions of Christian worship. The gathering prayer included deeply moving litanies of lamentations, cries and hopes from the churches in Africa, Asia, the Caribbean, Europe, Latin America, the Middle East, North America and the Pacific. Three hundred and forty-five different churches are represented at the assembly.
Rev Dr Walter Altmann, moderator of the WCC Central Committee, declared the assembly open – with video and written greetings following from Pope Francis and the Ecumenical Patriarch of Constantinople Bartholomew I. Rev Altmann's opening address described 'peace with justice' as a theme central to the work of the ecumenical organisation. He outlined the Council's desire to provide 'expanded space for meeting, spiritual exchange and dialogue'.
The assembly continues until 8 November, and includes thematic plenaries on Asia, mission, unity, justice and peace.