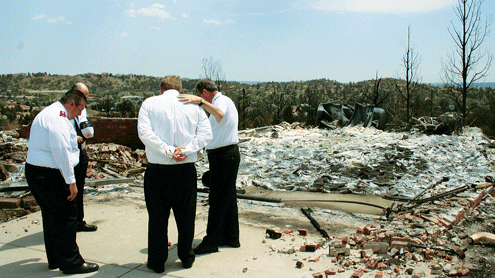 Salvation Army Continues Disaster Relief for Worst-Ever Colorado Fires
By Jared McKiernan
The Waldo Canyon Fire in Colorado Springs, Colo., has officially stopped its path of destruction, but The Salvation Army has not stopped in its relief efforts for this devastating wildfire season.
With the two largest wildfires in the Western Territory now contained, The Salvation Army closed its evacuation shelters, but is still providing relief to evacuees, assessing their short and long-term needs. Colorado Springs, meanwhile, has reopened its town.
The 31 total fires claimed two lives and destroyed 18,000 acres and 350 homes.
Roughly 10,000 people remain evacuated, down from more than 30,000 at the peak of the fire. Over 1,000 firefighters remain on the lines.
The CW2 and FOX Denver teamed with The Salvation Army July 2 for a telethon fundraiser for those affected by the wildfires burning throughout Colorado and in parts of Montana, Wyoming, and Utah. It raised $239,000 to provide food, clothing, gas and other necessities to victims, as the Army transitions to long-term recovery assistance.
The Army is serving not only those whose homes and belongings were damaged in the fire, but also those whose place of employment was affected, resulting in an inability to work and even layoffs.
Following the Waldo Canyon Fire and the High Park Fire—the two most destructive blazes in Colorado's history—residents and responders are now cautioning another potential disaster: floods. The Salvation Army is assisting the National Guard in assembling sandbags in preparation for possible flooding from expected rain. The Salvation Army is also gathering teams and supplies in case flooding and mudslides do occur in burn areas.
Cadet James Parks, who is leading an Emergency Disaster Service (EDS) team in Grand Junction, Colo., said, "Everyone has been really grateful of the Army's work"—everyone, including the leader of the free world. While touring the damage caused by the blaze, President Barack Obama visited the YMCA where Parks was working.
"I said, 'Hi Mr. President, it's an honor to meet you and thank you for all the work you do,'" Parks said. "He put his hands on my shoulders, looked at my uniform because I was in full uniform and said, 'Salvation Army…no, I thank you for all you do. You are on these lines doing this every day. God bless you.'…It was one of the coolest things that has ever happened to me."
Obama also promised federal assistance for the Waldo Canyon Fire during his visit.
"We're going to continue to make sure that the Federal Emergency Management Agency, the Forest Service, our military and National Guard and all the resources that we have available at the federal level are brought to bear in fighting this fire," he said in his weekly address when the fire was only 15 percent contained.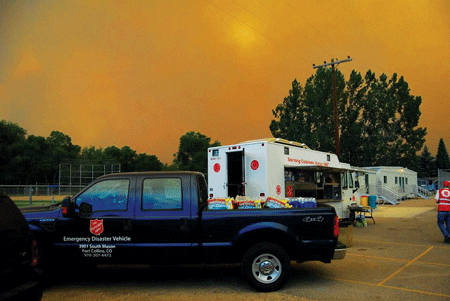 Commissioner James Knaggs, The Salvation Army's Western territorial commander, also made a special visit July 2 to many of the relief and burn locations within Colorado Springs. Accompanied by Intermountain Divisional Commander Lt. Colonel Daniel Starrett, Knaggs visited two canteen operations providing meals, drinks and emotional care and support to Waldo Canyon fire survivors and first responders.
"I want you to know how grateful we are for what you are doing today," Knaggs said to the relief teams.
The two mobile feeding units were staffed by local volunteers and emergency response teams from New Mexico and Montana. During his visit, Knaggs prayed with each volunteer group and shared words of encouragement with those who had served tirelessly since the fire outbreak in late June. Afterward, Knaggs and a small team of Salvation Army officials surveyed one of the neighborhoods affected by the devastating fire.
Robyn Morgan, coordinator of the Emotional Spiritual Care Team for EDS, has been volunteering since the evacuees from Hurricane Katrina came to Denver in 2005. She said she loves volunteering for evacuees, survivors and first responders because it inspires her.
"We were working with a man who had to evacuate his house," Morgan said. "On the same day he found out his house got destroyed, he was also diagnosed with cancer. His faith was still so strong. It was amazing."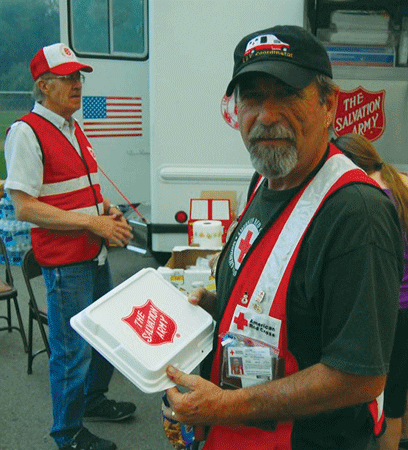 Claudia Jackson, who works at The Salvation Army office in Grand Junction, was called into action to serve on a disaster relief team in Colorado Springs. She worked closely with a family who also lost their house to the blaze.
"Both of the parents have talked to us about getting involved with The Salvation Army's [Emergency Disaster Services] once they are back in a place so that they can give back to others," Jackson said. "They realized that there are people who care about others and want to help. They want share and give back as part of their healing process."
Emphasizing that The Salvation Army will not desert the scene, Sherry Manson, Intermountain divisional EDS director, said, "This is going to be a long process and people are going to need some long-term help."
Several businesses, including Old Park Pizza and Albertson's Market, donated food and money to the Army's relief efforts, which includes providing over 31,000 meals since the start of this fire season.
"The best thing [people] can do for us is to make a financial gift," Manson said, adding that people have also been generous in volunteering. You can donate online at imsalvationarmy.org, by phone at 1-800-SAL-ARMY or send a check earmarked "Disaster Relief" or "Wild Fires" to your local Salvation Army office.