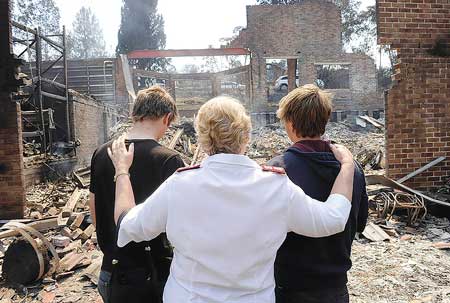 Salvation Army braves the flames in Australia
Emergency services remain on stand-by to assist affected areas.
The Salvation Army in Australia responded to wildfires burning through five areas of New South Wales, which destroyed hundreds of properties and killed one person. Emergency service crews were on call since the bushfires began Oct. 18.
"We just want to be there for the many, many residents who are hurting right now," said Captain Phil Sharp, Springwood Salvation Army corps officer. "We are ready and willing to assist in any way possible."
Salvation Army volunteers and personnel served at evacuation centers across New South Wales in the Central Coast, Raymond Terrace, Lithgow, Blue Mountains and Picton, assisting victims and firefighters physically and emotionally.
"People are understandably upset and bewildered," said Major Jeff Winterburn, territorial Red Shield appeal committee developer. "Picking up the pieces of a home in rubble or a livelihood ruined is a long and painful process, and The Salvation Army is committed to working in communities for as long as it takes."
The Salvation Army launched a Bushfire Relief Appeal, which so far has raised almost $500,000 to aid in relief and recovery efforts.
"We've been overwhelmed by the level of support for The Salvation Army Bushfire Appeal," Winterburn said. "We'd like to say a heartfelt thanks to everyone who has donated."
Woolworths pledged to match dollar-for-dollar all donations made at checkouts nationwide over the two weeks following the disaster. Target donated $100,000, and received in-store customer donations as well. Westpac Bank branches across Australia also took contributions and donated generously to the cause.
"The support from corporate partners such as Woolworths is invaluable in enabling us to care for those affected by these devastating fires," Winterburn said. "We're supporting people who have lost everything; people who are hurting emotionally and for whom we know long-term support is going to be needed."
Commissioner James Condon, territorial commander of the Australia Eastern Territory, visited the most severely affected areas of the Blue Mountains.
"My heart goes out to people who have lost everything," Condon said. "It's wonderful to see the dedication and commitment of Salvationists in the frontline."
Find more information or donate via
salvationarmy.org.au.